Kansas University freshman Jim Lewis threw his arms up, ready to explode in glee as he watched Baltimore Ravens' quarterback Trent Dilfer unload a long pass to a wide-open Shannon Sharpe.
But Sharpe, who was in the end zone, couldn't catch the ball, which was just barely overthrown. It bounced off his outstretched fingertips.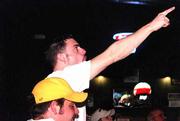 "That's football," said Lewis, who along with a dozen other fraternity brothers watched Super Bowl XXXV on a row of big-screen televisions at Set 'Em Up Jacks, 1800 E. 23rd St.
"Everyone used to have the Super Bowl party at the house," Lewis said, referring to past bashes at his fraternity, Sigma Alpha Epsilon. "But we decided to go out this year. We figured it wouldn't be too crowded, and we wanted to have a good seat."
Loyalties were split between the two teams the Ravens and the New York Giants but those at the crowded restaurant agreed that the NFL championship was arguably the largest sporting event in the country, or at least the one most worth celebrating with beer, cheeseburgers and chicken fingers.
"Whenever there's a sporting event, it's almost always packed," said Vanessa Young, manager of Set 'Em Up Jacks. "And we put the game on every TV here all 17 of them."
Lawrence resident Clark Orth, along with about two dozen friends and co-workers from Midwest Graphics Inc., came to the restaurant instead of spending the evening at home. Orth, who organized the party, said an event like the Super Bowl demanded a more elaborate celebration.
"I used to have just a few people over, nothing like this," he said. "Everyone's pretty good friends, so I thought this would be a really good idea. Today, everyone wants to have a good time."
Copyright 2018 The Lawrence Journal-World. All rights reserved. This material may not be published, broadcast, rewritten or redistributed. We strive to uphold our values for every story published.