When our blond-haired grandson blew out the candles on his birthday cake, there was no indication that within six months his life and ours would change forever.
In that short span, he regressed from a 2-year-old speaking three-word sentences to a disengaged child living in his own world. He was unable to speak and could do little more than stare blankly.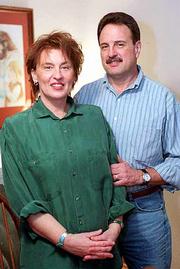 Because of problems Aidan's parents were having, we became mom and dad as well as grandparent.
We sought answers for his strange behavior from a developmental pediatrician and several neurologists. Their diagnosis autism. Shock, heartache and loss you sense are the first step of entering the world of disabilities.
Many behaviors, including toilet-training problems, which meant cleaning smeared walls, floors and clothing several times a day, were exhausting.
As we pursued early intervention, we found the public school system serving our area of Colorado reluctant to address the complexity of Aidan's educational needs. Parents of disabled children are frequently forced into an adversarial relationship with schools because of budget issues.
Unprofessional tactics from school administrators, including comments made behind our backs labeling us as troublemakers, were hard to understand.
It's interesting districts always "find" money to fight parents who persist in advocating for their children.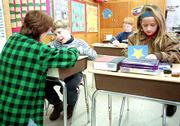 Most parents, including us, do not have sufficient resources to fight a school district in court. School administrators use that knowledge as leverage when deciding how to educate disabled children.
In Colorado, out-of-home placement seemed inevitable for Aidan. We knew it would likely mean a substandard environment for him. This predicament led to a decision two years ago to return to our home state of Kansas, knowing the Lawrence public school district had an effective autism program.
The progress Aidan has made in Lawrence is encouraging. I have rarely seen a more dedicated teacher than the one at the elementary school he attends. He is learning to speak again, a hope that was dashed by professionals in Colorado.
We would be remiss not to mention the incredibly difficult job school paraprofessionals have as they serve children with autism. They are to be commended for their tenacity. They do the job for a salary that is far from adequate. We hope the district remedies this soon.
As we look to the future, we realize Aidan still has many challenges, but our despair has given way to hope for him as well as us.
---
Joan and Sonny Kelley, Lawrence, are the grandparents of Aidan Kelley, an autistic student at Cordley School.
Copyright 2017 The Lawrence Journal-World. All rights reserved. This material may not be published, broadcast, rewritten or redistributed. We strive to uphold our values for every story published.