Washington — The Senate's Republican leader predicted Sunday that Congress will approve by July 4 a cornerstone of President Bush's domestic agenda, his 10-year, $1.6 trillion tax cut proposal.
Appearing on "Fox News Sunday," Senate Majority Leader Trent Lott said Americans "will get every bit" of Bush's proposed tax cut. Democrats discussed a much smaller figure.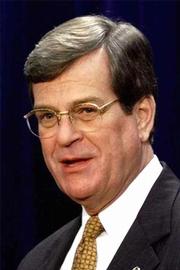 "The mix may be a little different from what the president proposes, but he may actually like some of the changes that may be made because of the economy," Lott, R-Miss., said.
"We have excess cash. We have a slowdown in the economy. So any immediate injection into private hands where the people can ... save it or spend it the way that it would be helpful to the economy, I think, is very positive," Lott said.
Bush's chief economic adviser, Larry Lindsey, said on CBS's "Face The Nation" that he hoped a tax cut would come sometime in the second quarter.
"I think that's really when the economy is going to need it," he said.
Lott said Federal Reserve Chairman Alan Greenspan's comments last week about a tax cut were a "huge" boost to Bush's plan.
"He helped immensely, because he made it clear that, while eliminating the national debt is important and that a good portion of the surplus should go to that, you could do it too quickly or you could get into a situation where it's paid off and then you either cut taxes at that point or you start ... investing that money, and he doesn't think that's good," Lott said.
The House's top Democrat, Rep. Richard Gephardt, said tax cuts on the order of $700 billion to $750 billion during 10 years were appropriate. He said Congress must be careful about projections of a large federal surplus.
"These projections of the surplus are just projections," Gephardt, D-Mo., said on ABC's "This Week." "We ought to be skeptical we ought to move a little more slowly."
Copyright 2018 The Associated Press. All rights reserved. This material may not be published, broadcast, rewritten or redistributed. We strive to uphold our values for every story published.