Tampa, Fla. — Baltimore's defense was every bit as good as the Giants suspected.
"As a coach, they are as good as anybody I've played against," New York's Jim Fassel said after Sunday's night 34-7 loss to Baltimore in the Super Bowl. "We didn't play well, but you've got to give them credit. ... They're faster and quicker than they look of film. But I thought they would be."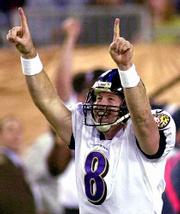 The Giants were held to 152 yards, including just 36 in the second half, and were 2-of-14 on third-down conversions. Kerry Collins threw four interceptions and was sacked four times.
"They have a solid defense, no doubt," New York defensive end Michael Strahan said. "I don't think that was ever in question, so I think they had to earn any merit badges. They played well."

No place like home?: The Giants were the home team and wore blue jerseys. The Ravens were the visiting team and wore white jerseys. Being designated the "home" team shouldn't have been mistaken as an advantage. The "visitors" have won 20 of 35 Super Bowls.
No team has ever appeared in the Super Bowl in its home stadium, although the 1979 Los Angeles Rams and 1984 San Francisco 49ers did make it to the title game when it was played in stadiums in their home area. The Rams lost to Steelers at the Rose Bowl in Pasadena, while the 49ers beat the Miami Dolphins at Stanford Stadium.

Super host: The Super Bowl was played in Tampa for the third time. Only Miami (eight), New Orleans (eight) and Los Angeles/Pasadena (seven) have been the site more times.

Early deadline: The Super Bowl game program contained a feature on Dick Vermeil, who retired after his St. Louis Rams beat the Tennessee Titans in last year's Super Bowl. In a first-person account running under the headline: "I Don't Miss the Headaches," Vermeil wrote that while he missed coaching, he had no regrets about his decision to step down. The 64-year-old Vermeil was hired as coach of the Kansas City Chiefs this month.

Late scratches: The Ravens and Giants each deactivated four players 90 minutes before the game. Baltimore's inactives were safety Anthony Poindexter, guard Orlando Bobo, defensive end Adalius Thomas and third quarterback Chris Redman. New York de-activated kicker Jaret Holmes, fullback Craig Walendy, defensive tackle George Williams and No. 3 quarterback Mike Cherry.

Fair shares: The winning team earned $58,000 per player, while the losing team received $34,500 per man. In addition, the NFL pays for up to 125 championships rings at $5,000 per ring, plus adjustments for increases in gold and diamonds. The league also buys up to 125 pieces of jewelry for the losing team. However, the cost cannot exceed one-half the price for the Super Bowl rings.

Dilfer fan: Walking among all those fans wearing Giants and Ravens jerseys, Emily Kundrat stood out like a sore Buccaneers fan in her red Tampa Bay jersey.
On the back, above the big No. 12, was the word "DILFER."
Dilfer quarterbacked the Bucs for six years through last season, when he was released after Shaun King was given the starting job late in the year.
Dilfer, who signed as a free agent with the Ravens, returned Sunday as the point man in the Baltimore offense.
"I called the Bucs to complain after he left," Kundrat, 47, said. "I thought he was a good quarterback given a bad rap in Tampa. It's hard for a quarterback to play behind a bad offensive line."
Dilfer joined Doug Williams, Steve Young and Chris Chandler as former Tampa Bay quarterbacks to reach the Super Bowl with another team.
"It's a coaching problem. They just blame someone else," Kundrat said.
Copyright 2018 The Associated Press. All rights reserved. This material may not be published, broadcast, rewritten or redistributed. We strive to uphold our values for every story published.