When the judges of this year's Langston Hughes Creative Writing Awards selected the winners in the poetry and fiction divisions, they had no way of knowing the writers lived in the same house and serve as each other's most reliable critics.
And they didn't know they were engaged and planning on being married in a few months.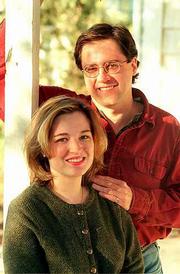 "One question people ask us is if we're competitive," Katrina Vandenberg, 30, the winner of the poetry division, said. "We don't feel competitive, which seems to surprise some people."
"It's sort of a Zen thing," John Reimringer, 40, the fiction winner and a Kansas University alumnus, said. "It's so competitive it's not competitive at all."
Vandenberg and Reimringer met while graduate students at the University of Arkansas.
Vandenberg completed a master's degree in poetry in 1997; her fiance earned a master's degree in creative writing in 1999. Reimringer works as the copy and calendar editor at University Relations at KU, Vandenberg as a part-time catering assistant.
A late-blooming writer
Reimringer's winning entry, "Miriam," is about a man who has an affair with his brother's girlfriend and realizes that neither he nor the woman are very nice people.
The story line is a far cry from his days as a 10-year-old writing about science fiction and sports novels.
"I didn't think seriously about writing until I was about 30," he said, explaining that he worked as a journalist at the Hutchinson and Parsons newspapers before taking a job as a library assistant at the University of Iowa. "I had gone to Europe for seven months and started reading good literature. It dawned on me that I could get a teaching assistantship and make a sparse living while writing."
He entered the University of Arkansas at age 33 to study with Donald "Skip" Hays, author of "The Dixie Association," and other professors.
His first work to be published was "Poker Face," about a one-night stand between a bar maid and a poker player. The work appeared in Gulf Stream Magazine.
"She's better at reading people than he is," he said.
The Langston Hughes Creative Writing Awards will be presented at 7 p.m. Thursday at the Lawrence Arts Center, 200 W. Ninth St.Maryemma Graham, Kansas University professor of English, will talk about Hughes, and the winners will read from their works.The award is sponsored by The Raven Bookstore and the arts center to recognize excellence and encourage achievement of new and emerging writers living in Lawrence and Douglas County.
Since moving to Lawrence in June 1998, Reimringer has published everything he wrote for his master's thesis, including "The Dream Lives of Dogs," a coming-of-age story involving a newspaper photographer and his teen-age daughter, Carolina Quarterly; "Miriam," Colorado Review; and "Brickman's Comet," a comedy about adultery and astronomy, Louisiana Literature.
Many of Reimringer's works are set in Topeka, his hometown. But that's not to say they are autobiographical.
"It's little bits and pieces, but life's not as neatly plotted as a short story has to be," he said. "If I start out with real life, by the time I finish it's no longer recognizable."
His fiction, however, does have a common theme.
"My stories are about people who make mistakes and are trying with limited tools to correct them," he said.
Reimringer tries to write some daily.
"I can't wait for inspiration. I just need to sit down and try to write a little each day," he said. "I tell myself I need to write 15 minutesa day, and I usually end up writing for an hour."
Talent spotted early
Like her fiance, Vandenberg began writing as a child in Grosse Ile, Mich.
"A teacher told my mother I had an aptitude for writing. I remember my mom taking me to the store to get a notepad and I'd sit at her desk and write."
Vandenberg was 7.
"I always had encouragement from my teacher, although we didn't have specific writing classes," she said.
She majored in creative writing and French at Bowling Green State University, and was accepted into the writing program at the University of Arkansas when she was 21.
"Arkansas was the first place for me to learn where I could go with writing, but it was still sort of a game," she said.
Then she began to get published. "The Problem with the Pills," which appeared in the Mid-American Review, is about a relationship between an HIV-positive man and his girlfriend. Instead of dealing with the problems in their relationship, they focus on the pills he's taking.
"That was the point that I realized I wanted to go further and deeper (into writing poetry)," she said.
Her works have appeared in the Alaska Quarterly Review, Poetry Northwest, The Laurel Review, Puerto del Sol, The New Orleans Review, Cincinnati Poetry Review, Mid-American Review and Florida Review.
"Fairy tales is the biggest influence on my writing," she said. " They are about ordinary people who have extraordinary things happen to them."
Vanderberg said her poetry is sometimes influenced by her experiences as a foreign exchange student in France in 1990 and as a Fulbright grant recipient in the Netherlands in 1999-2000.
For example, "5, rue Amyot" is about a building in France where she lived as an exchange student. Artist Modigliano's lover had jumped from a window in the building. The poem, she explained, is about a young girl's romantic ideas about love and how they can be self-destructive.
"It's a lot about my own regrets," she said.
Vandenberg, like Reimringer, tries to write each day. "I used to think you had to be in the mood to write. I realize now it has little to do with mood," she said.
And her writing has little to do with a desire for accolades.
"In every other profession, if you do it, you are it," she said. "(Being a writer) is not tied to success. It's a private thing."
Copyright 2018 The Lawrence Journal-World. All rights reserved. This material may not be published, broadcast, rewritten or redistributed. We strive to uphold our values for every story published.