After three speeches, a panel discussion and three Q&A; sessions, participants in a community mental health summit left Saturday with a mission: to back up all the talk with action.
Organizers called the Bert Nash Community Mental Health Center's Community Summit which drew about 1,800 people to the Lied Center Friday and nearly 1,000 Saturday a success. But, they said, the real measure of success will be the summit's long-term results.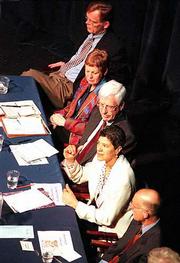 "We make our community," said William Carswell, chairman of the Lawrence Arts Commission. "It's not an accident. We create it, and this is a type of communal gathering on how to do it."
Patricia Roach Smith, community development director for Bert Nash, said she planned to distribute follow-up surveys within a month to get participants' comments and ideas for future communitywide projects.
"I think there'll be a number of next steps, not necessarily in concert," said Dan Watkins, chairman of the Bert Nash Center Endowment Board of Trustees. "Everyone that came can come away with something that related to their own situation and environment. And I'm hopeful it will encourage collaboration and partnership."
To reach more Douglas County residents, the Bert Nash center also plans to have summit videos available for check-out within a week and have audio files of the discussions available on its Web site.
The summit marked Bert Nash's 50th anniversary. On Friday, Robert Putnam, a Harvard University professor and author of "Bowling Alone: The Collapse and Revival of American Community," warned the audience of the dangers of losing personal relationships.
Echoing some of Putnam's message, much of Saturday's discussions centered around how to get more people involved in the community even though many of those attending already are active in local organizations.
"The choir needs a good sermon every now and then," said keynote speaker Dr. Deborah Prothrow-Stith, an expert on teen violence. "It does a lot to jump-start us and for us to celebrate small successes."
John Nalbandian, a former Lawrence mayor, said those who are involved in the community need to reach out more to those who aren't.
"In our future discussions, we need to create opportunities where the most dominant the loudest do not dominate," said Nalbandian, chairman of the Kansas University department of public administration. "That seems to be a problem in this town."
Saturday's audience heard speeches from two experts on children's mental health. Prothrow-Stith, a physician, professor of public health at Harvard and former member of the National Commission on Crime Control and Prevention, said rural, middle-class communities such as Lawrence are seeing a new wave of juvenile crime. She compared the violence to the AIDS virus.
¢a href="
http://www.bertnash.org
" target=_blank>www.bertnash.org¢
www.search-institute.org
"By its very nature, it erodes the community's ability to deal with the problem, much like AIDS erodes the body's ability to deal with the virus," she said.
The solution, she said, is using efforts and resources for prevention instead of "crisis response." She urged the audience to become involved in children's lives. "If we know and see and touch, we can't ignore," she said.
Saturday's other keynote speaker, Peter Benson, also focused his speech on the importance of relationships with adults for children. His organization, the Search Institute, compiled a list of "40 developmental assets" for childhood development, such as positive role models and involvement in community activities.
Benson said all communities, despite their location or wealth, are failing in providing those assets to children. But, he said, there is hope.
"Lawrence is the perfect place to build an asset-rich community," he said. "It's big enough to have a lot of resources, but it's small enough for relationships to rebuild and for people to know each other."
"We need to create oppor-tunities where the most dominant -- the loudest -- do not dominate."
-- Former Mayor John Nalbandian
During a summit-ending panel discussion, Douglas County Commissioner Bob Johnson said he was confident the event would lead to a healthier Lawrence.
"In our wildest dreams, I think we hoped there would be this type of attendance and participation," Johnson said. "Wouldn't it be a shame if this event took place and on Monday morning Douglas County was the same as always? And it's my belief that that won't happen."
Sarah Boyd had a clear vision of how to apply what she learned. She left the Lied Center with a stack of pamphlets from community organizations and planned to find new opportunities for volunteering.
Boyd, a Kansas University student and employee at the Boys and Girls Club, said she's seen the effect adult volunteers can have on children's lives. She's just hopeful the summit gets the message out to more people.
"A lot of it is just talk," Boyd said. "But it does make you think."
Copyright 2018 The Lawrence Journal-World. All rights reserved. This material may not be published, broadcast, rewritten or redistributed. We strive to uphold our values for every story published.