America is losing its "social capital" the fabric of interconnectedness that gives value to personal relationships and needs to figure out a way to regain what has been lost in the past 40 years, a Harvard professor said Friday evening.
"Most of us are watching 'Friends' rather than having them," Robert D. Putnam said. "Each year we lose another slice of the population, and if we don't change this, things are bound to get worse."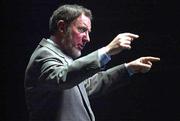 In a packed Lied Center, Putnam spoke about the nationwide trend of declining community involvement. Citing long-term studies and polls, Putnam showed the decline of club and civic group membership, the decrease in church attendance and even how the number of yearly family picnics has dropped from five in 1975 to two last year.
"You may ask if the fate of America is based on picnics," he said to the audience members, many of whom chuckled. "Well, yes it is."
Putnam's speech kicked off this weekend's Bert Nash Community Mental Health Center's Community Summit. Putnam also is the author of "Bowling Alone: The Collapse and Revival of American Community."
The summit is the culmination of events commemorating the center's 50th anniversary this year.
During his talk, Putnam presented about a dozen slides with data that showed a general decrease in community involvement, which roughly began in 1960. Since then, people have attended fewer public meetings, acted less often as club officers, watched more television and attended church less regularly.
Putnam listed a few major causes of the past decades' drop, focusing mainly on television and urban sprawl. He mentioned studies that showed Americans watch an average of four hours of television daily and that every 10 minutes of travel time to and from home cut 10 percent of the connection with other people.
This disconnection from other people, Putnam said, was destroying the social fabric of America and would continue until people made a sincere effort to change the trend.
Today:8-8:45 a.m.: Dr. Deborah Prothrow-Stith, director of public health practice at Harvard University, speaks on "Public Health Strategies for Creating Healthy Communities Through Violence Prevention."8:45-9:15 a.m.: Question-and-answer session.9:30-10:15 a.m.: Peter Benson, president of the Search Institute in Minneapolis, Minn., speaks on "Community Assets: Building Blocks for a Healthy Community."10:15-10:45 a.m.: Question-and-answer session.11 a.m.-12:30 p.m.: Panel discussion summarizing the summit and its implications for Douglas County.All events are at the Lied Center of Kansas, 15th and Iowa streets. Free tickets are available in advance by calling 843-9192, online at
www.bertnash.org
, or at the door. Persons who need transportation may call the Bert Nash Community Mental Health Center at 843-9192. The summit is sponsored by Bert Nash, Kansas University and the Hall Center for the Humanities.
"It's lethal," he said. "Our communities don't work if we're not well-connected. We need to invent new ways of connecting that fit the way we've learned to live. It's not rocket science. It just takes a lot of talking with each other."
Ed Klumpp, who traveled from Topeka to hear the speech, said he was interested in the talk because he was involved in a community organization dedicated to improving aspects of Topeka.
"It's sort of to study how to do things back home," said Klumpp, who also is Topeka's deputy police chief. "I agree that we're not as close to one another than we were 20 or 30 years ago. We want to try to build that sense of community."
And Amber Hunsinger, a Kansas University junior studying sociology, said she came to hear Putnam's possible solutions.
"I was interested in how he wants to build a better community," she said. "Everyone seems to disagree about what needs to be done."
Putnam's speech was followed by a 30-minute question-and-answer session, which was followed by a 45-minute book-signing session.
Copyright 2018 The Lawrence Journal-World. All rights reserved. This material may not be published, broadcast, rewritten or redistributed. We strive to uphold our values for every story published.