In July 1999, Heather Baker signed a virginity pledge card, vowing to abstain from sex until marriage.
Then the 16-year-old junior at Lawrence High School took the commitment a step further: She vowed to refrain from kissing until marriage, too.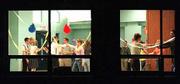 It's a pledge she intends to keep.
"I think I've pretty much always known I wouldn't have premarital sex," said Heather, who attends Victory Bible Church, 1942 Mass.
"I know that it's something I want to save for my husband. I do believe sex is sacred, and it belongs in marriage."
As unusual as a teen-ager taking a pledge to remain a virgin until marriage might sound in today's culture, Heather's actually part of a national trend among young Christian students.
By some news accounts, several million U.S. teen-agers have taken vows similar to Heather's since the early 1990s.
The "virginity pledge" movement began with organized religion's support. It is now loosely organized around nearly 80 independent organizations.
One of the most well-known is True Love Waits, an abstinence group that grew out of the Southern Baptist Convention. It has been offering its virginity pledges to teen-agers since 1993.
There are plenty of Lawrence teen-agers who have taken formal or informal vows to remain abstinent until marriage, according to Lawrence members of the Fellowship of Christian Students and the Fellowship of Christian Athletes.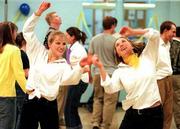 Some of these students attended a swing dance party for members of FCS and FCA held earlier this month at Holcom Park Recreation Center, 2700 W. 27th St.
One of the students was Silvy Perkins, a close friend of Heather's.
"Heather and I both made commitments that we were not going to kiss anybody until we were married. We thought it would be cool if we could keep ourselves that pure," said Silvy, a 17-year-old junior at Free State High School.
She's active in the youth group at Heartland Community Church, 619 Vt.
Her friends haven't given her a hard time about the strict vow she took.
"It hasn't been really difficult. Most people know (about the pledge). We made it pretty vocal among the people we hang out with. A lot of them understand and respect it," Silvy said.
Christian girls aren't the only ones taking vows of abstinence. Boys are jumping on the bandwagon, too. Like Micah Thomas, a 16-year-old sophomore at LHS. He attends Community Bible Church, 906 N 1464 Road.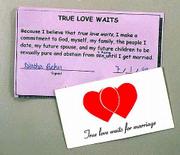 "I have definitely made an adamant decision not to have premarital sex. I decided that when I was about 13, when girls were starting to come into the picture," Micah says.
"In fact, my parents have ordered a purity ring for my 16th birthday. It's a reminder of how I want to treat my body."
Many teen-agers who have taken vows of abstinence carry their virginity pledge cards or wear special rings that symbolize their decision. Some of the rings have the words "True Love Waits" engraved on them.
It's difficult for a teen-age boy to make public his vow of abstinence, Micah says, because of peer pressure to be sexually active.
"Guys always struggle with temptation that's 90 percent of what guys talk about. It's hard to be with a group of guys and say you won't have premarital sex," Micah says.
Students who take vows of abstinence say their decision is based on their faith and what the Bible says about having sex outside of marriage.
Luke Lackrone, an 18-year-old senior at LHS, has no regrets about the vow he took.
"I don't feel that I've missed out on anything," Luke said. "I feel that my walk with God is in a better stage than it would be otherwise. And I didn't run any risks of fathering a child or getting a sexually transmitted disease."
Copyright 2018 The Lawrence Journal-World. All rights reserved. This material may not be published, broadcast, rewritten or redistributed. We strive to uphold our values for every story published.