Puerto Baquerizo, Galapagos Isla — More than 160,000 gallons of fuel that spilled from a stricken tanker pose a threat to creatures great and small from birds to iguanas to sea lions off this fragile natural treasure where Charles Darwin forged his theory of evolution.
The spill began last week, but by Monday some 20,000 gallons of fuel remained inside the disabled tanker. A U.S. team sent to help was working to transfer fuel pouring through the ruptured hull to empty storage tanks still intact within the ship.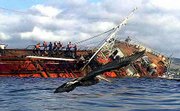 "The bottom line is once oil gets out of a ship it's virtually impossible to remove it or contain it on the ocean," Coast Guard Capt. Edwin Stanton said.
The Ecuadorean tanker Jessica, carrying 243,000 gallons of diesel fuel, ran aground Jan. 16 in pounding surf off San Cristobal Island, the easternmost island in the Galapagos archipelago. The ship started leaking fuel Friday as it tilted sharply.
Ecuadorean Environment Minister Rodolfo Rendon said that about 60,000 gallons were recovered from the damaged tanker, but not before more than 160,000 gallons seeped through fissures in the hull.
Experts were monitoring slicks carried by strong currents to the south and more alarmingly west toward the bulk of islands in the volcanic Galapagos chain, an ecosystem populated by animal and plant species found nowhere else in the world.
Darwin, the 19th-century naturalist, developed his theory of evolution by studying wildlife on these islands in the Pacific Ocean, 600 miles off Ecuador's coast. The islands, a part of Ecuador's territory since 1832, were formed 4 million to 5 million years ago by underwater volcanos. Most are arid and rocky, dotted more by cactuses than lush vegetation.
Galapagos National Park spokesman Fabian Oviedo said Monday that dispersants and absorbents were being used to lessen the impact of the diesel, but that the fuel had already reached Santa Fe Island, 37 miles west of San Cristobal.
"The part of Santa Fe most affected is the coastal zone of El Miedo, populated by iguanas, sea lions and birds, such as the blue-footed booby," he said. "Four sea lions stained with diesel have been spotted, as well as boobies and 30 pelicans."
He said most of the birds "had been captured and were undergoing a process of cleaning with special detergents."
Carlos Valle, coordinator of the World Wildlife Fund's Galapagos program in Ecuador, said the damage could be grave for the hundreds of sea lions and thousands of iguanas that populate Santa Fe.
"It is very difficult to move them because they are very territorial," he said. "The most vulnerable animals are the blue-footed boobies, masked boobies and frigate birds whose feeding zone is in the area of the spill."
He said some colonies of marine turtles could be threatened. But species in danger of extinction, such as the miniature Galapagos penguin and flightless cormorant, are not in danger because they live in the far western reaches of the archipelago.
Copyright 2018 The Associated Press. All rights reserved. This material may not be published, broadcast, rewritten or redistributed. We strive to uphold our values for every story published.