Washington — Abortion rights supporters are finding themselves on tough terrain for today's 28th anniversary of the landmark Roe v. Wade decision that legalized abortion, as abortion foes are energized by the suddenly changed political landscape.
Bill Clinton, the president who helped the cause for keeping abortions legal, is gone, replaced by anti-abortion President Bush, who has nominated an even more staunch abortion opponent as attorney general, John Ashcroft.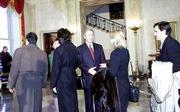 "The eight years of a pro-choice presidency were the aberration," said Gloria Feldt, president of Planned Parenthood Federation of America.
"We've been under attack since 1973 when Roe was decided."
Abortion rights supporters are used to the battle. But the ground has changed.
"Certainly we can't count on the White House now," said Patricia Ireland, president of the National Organization for Women. "And we may not be able to count on the court even now but for sure if one more nominee gets through that's anything like the Ashcroft model."
Ashcroft, a Republican, has proposed a constitutional amendment that would outlaw nearly all abortions, including in cases of rape and incest, and he also is opposed to most forms of contraception.
Bush could appoint one or more Supreme Court justices. Just one appointment could tip the balance with many decisions now being made on 5-4 votes. Any nominee, however, would have to be approved by a Senate divided 50-50 along party lines.
"It's like a shot across the bow a warning of things to come that could impact long past Bush's term, even if he's a two-term president," Ireland said.
Abortion opponents are more upbeat than they have been in years. They include Norma McCorvey, the "Jane Roe" in the Roe v. Wade case who now runs Dallas-based Roe No More Ministry, a speakers' referral service for the anti-abortion cause.
"I think the majority of pro-lifers are really looking forward to President Bush getting into office," McCorvey said just before the inauguration. "I think we all have the same dream: We'd like to see Roe v. Wade overturned."
Abortion opponents think it's just a matter of time before abortion is outlawed again. "I think pro-life people and I think that's a majority in the country certainly feel better now," said National Right to Life Executive Director David O'Steen.
McCorvey, meanwhile, dismisses Ashcroft's statement at his Senate confirmation hearing that he would not try to make abortion illegal.
"I would like to think that John didn't really mean that," she said.
But neither side is taking anything for granted.
Abortion rights groups have mobilized supporters with radio ads and Internet campaigns urging them to speak out against Ashcroft. NOW has been protesting Ashcroft. For the National Abortion Rights Action League's annual dinner commemorating Roe, "a lot of our pro-choice friends are seeing this as maybe an alternative to the inaugural festivities," said spokeswoman Julie Piscitelli.
But anti-abortion groups are rallying behind Ashcroft and planning protests and marches for today.
Americans in general remain split on abortion. An exit poll in the presidential election found more voters favored keeping abortion legal, 55 percent to 42 percent. But only 20 percent thought it should be legal in all cases and 35 percent said it should be legal in most cases.
Outlawing abortion after nearly three decades won't be easy.
The fight isn't solely about Roe anymore, said Laura Woliver, a University of South Carolina political scientist and associate director of women's studies, noting that abortion access can be eroded in other ways through regulation or by giving states more power.
Ashcroft as attorney general will decide how to enforce such laws as the Freedom of Access to Clinics Entrances law that seeks to ensure that women and workers can come and go from clinics safely, Woliver said.
Anti-abortion groups want Bush to repeal some Clinton executive orders. One eliminated the rule barring clinics from discussing abortion if they receive federal funds. Another ended the policy preventing foreign aid from funding abortions or educating people about them.
Bush supports tightening standards for doctors administering the newly approved abortion pill RU-486, and has said he would sign legislation banning the late-term abortion procedure critics call "partial-birth abortion" that Clinton has vetoed. Bush also opposes federally funded research using stem cells from discarded human embryos.
Copyright 2018 The Associated Press. All rights reserved. This material may not be published, broadcast, rewritten or redistributed. We strive to uphold our values for every story published.