Erv Hodges remembers a different Lawrence.
Growing up here during the Depression and World War II, Hodges said, he had friends from all over town and all walks of life. The children played "disorganized" sports games like kick the can in their neighborhoods while grown-ups kept an eye out and chatted with each other.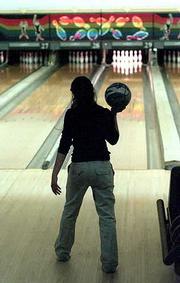 "Years ago, we didn't have air conditioning, so you sat on your porch, saw people and talked to people," he said.
Now 70 years old and a city commissioner, Hodges says that sense of community has diminished. The city has become a conglomeration of neighborhoods, and even the neighborhoods aren't as close-knit as they once were.
"Beyond our own social group, there's not as much neighborhood contact as there used to be," he said. "Things aren't necessarily bad. It's just different."
All this is no surprise to Robert Putnam. The Harvard University professor documented the trend across America in his book "Bowling Alone: The Collapse and Revival of American Community." Americans, he said, simply aren't as connected to each other as they used to be.
'The right ingredients'
And Putnam said Lawrence, even with its proliferation of clubs and community service groups, probably isn't escaping the trend.
"Lawrence has all of the right ingredients for being a good place," he said. "It's smallish, it's in the Midwest and it has a lot of educated people.
"Nevertheless, I would not be shocked to learn that if you ask old-timers there, there's less social connectedness than there was 25 years ago."
That sense of disconnect is a major reason for next weekend's community summit, sponsored by Bert Nash Community Health Center. Putnam is keynote speaker.
The summit is the culmination of events commemorating the center's 50th anniversary in 2000. As part of those events, Bert Nash officials convened 13 focus groups of 280 government, business, legal, education and religious leaders to take stock of Douglas County's changes through the years.
"What we found out was that even though we had different groups address these topics from their perspectives, one consistent theme is that we're not sure the fabric of this community is as tightly woven as it has been in the past," said Reginald Robinson, counselor to Chancellor Robert Hemenway at Kansas University and a member of Bert Nash's governing board.
"We don't know each other, we don't seem to know our neighbors as well. People are so busy that there seems to be less general engagement," Robinson said.
Reasons for change
There are reasons for that.
One is that Lawrence isn't a small town anymore. The population has more than doubled in recent decades from just more than 30,000 in 1960 to an estimated 82,000 in 2000. And the population is more mobile; officials often like to say the city has an annual turnover of 20 percent of its population.
"We had less mobile residents in those days," Hodges said. "People didn't move as often. When they established a home they stayed there for years."
One result, in Lawrence and nationwide, is declining membership in clubs and other organizations.
Bob Bechtel, former president of the Lawrence Jayhawk Kiwanis Club, said his organization is maintaining its membership rolls. But the heads at the meetings, he said, are grayer than they once were.
"I would not be shocked to learn that if you ask old-timers there, there's less social connectedness than there was 25 years ago."
Robert Putnam, author of "Bowling Alone" and keynote speaker of summit
"Everybody's so busy and younger members have so many other options," Bechtel said. "All the service clubs have gone down in recent years."
And that's bad, Putnam said. Social connectedness, he said, is important for physical, mental and community health, a powerful predictor of everything from SAT scores to depression rates to death.
"As a risk factor for death, social isolation simply not knowing your neighbors is as big a factor as smoking," he said.
Bechtel, meanwhile, is more worried about the community.
"Our organization tries to help out youth and we try to pick organizations to help," he said. "If we're not there, we're not sure who's going to take up the slack."
A starting point
Summit organizers say they want to bring the community together to answer those questions.
"I think there are folks who aren't involved or don't feel included (in the community)," said Pat Roach Smith, Bert Nash spokeswoman. "If there are folks who aren't happy with the way things are going, we need to look at that."
Friday8 p.m. to 9 p.m.: Keynote address by Robert Putnam on "The Role of Civic Engagement in Creating Healthy Communities."9 p.m. to 9:30 p.m.: Question-and-answer session.Saturday8 a.m. to 8:45 a.m.: Dr. Deborah Prothrow-Stith, director of public health practice at Harvard University, speaks on "Public Health Strategies for Creating Healthy Communities Through Violence Prevention."8:45 a.m. to 9:15 a.m.: Question-and-answer session.9:30 a.m. to 10:15 a.m.: Peter Benson, president of the Search Institute in Minneapolis, Minn., speaks on "Community Assets: Building Blocks for a Health Community."10:15 a.m. to 10:45 a.m.: Question-and-answer session.11 a.m. to 12:30 p.m.: Panel discussion summarizing the summit and its implications for Douglas County.All events are at the Lied Center of Kansas, 15th and Iowa streets. Free tickets are available in advance by calling 843-9192, online at www.bertnash.org, or at the door. Persons who need transportation may call the Bert Nash Community Mental Health Center at 843-9192. The summit is sponsored by Bert Nash, Kansas University and the Hall Center for the Humanities.
She acknowledged the center has had some difficulty reconciling its intentions of "bringing the community together" with the reality of making it happen.
Roach Smith said there have been questions whether the posh Lied Center is truly a place where all members of the community will feel comfortable gathering. And Bert Nash is trying to make transportation arrangements; the city's buses stop running before the Friday night session begins.
"Honestly, if people have suggestions for us ... it's going to be hard to coordinate, but we're willing to look at all options," she said.
Outside the mainstream of Lawrence leadership, reactions are mixed. Herman Leon, formerly a Kansas University social work professor and homeless shelter director, said more action and less talking is needed.
The city's homeless population, he said, has been an underserved part of the community during a bitterly cold winter.
"I don't want to knock the summit," he said. "It just seems to me the city fathers and mothers aren't paying good attention to all the people."
But Dave Cade, executive director of the Pelathe Community Resource Center, said he is arranging for as many of his staff and clients to attend as possible.
"I hope we'll see more opportunities to work with other groups," he said. "My hope is (the summit) will serve as a catalyst for community dialogue."
That's what should happen, Putnam said.
"I would hope as a result of the summit in Lawrence, there would be a commitment to a sustained process of experimentation of new forms of community-building," he said. "And to be involved with other communities doing the same things."
Roach Smith said that community volunteer organizations are being asked to set up booths at the summit to show attendees the opportunities for community involvement.
Bert Nash officials also hope to make the summit an annual event to address community issues. Beyond that, they say, the outcome of the summit is up to the community.
"I think an event like this, it's important to recognize it's not a solution," Robinson said. "An event like this can be a starting point."
Copyright 2018 The Lawrence Journal-World. All rights reserved. This material may not be published, broadcast, rewritten or redistributed. We strive to uphold our values for every story published.