Judith McCrea used to get inspiration for her artwork by spending months at a time in the jungles of Central America and South America.
Now, all she needs to do is look out her window.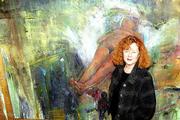 McCrea, who chairs the Kansas University art department, purchased 36 scenic acres west of Lecompton five years ago. A series of oil paintings inspired by the landscape has helped land her this year's Kansas Governor's Arts Award.
"I am truly surrounded by nature, and there isn't a day that goes by that I don't see something that makes an impression on me," she said. "There are constant changes that are so beautiful."
With the help of KU architecture students, McCrea built a studio on the side of a hill, where she ritually watches both sunrise and sunset each day. She lives in a 16-foot-by-16-foot, second-floor loft.
"I'm kind of camping," she said. "But I wanted to build the studio first because if I built the house first, I was scared to death I wouldn't be able to afford to build the studio."
Her series of 12 paintings depicts the land for a year during 1999 and 2000. She said her paintings often include an "apocalyptic, mystical sense," which sometimes meant including a skeleton or a monkey.
Trish Higgins, who owns an art gallery in Wichita, emphasized the importance of the series when she nominated McCrea for the governor's award.
"That's where she is physically and that's where her head is on the land," Higgins said. "The pieces I've known her to do over the years have been influenced by the Mexican and South American cultures. With these landscapes, she's incorporated those images from other cultures and put them into her context the Kansas landscape."
Judith McCrea will be among the 22 Kansas University art professors whose work will be featured in an exhibit today through Feb. 2 at the Art and Design Gallery in the Art and Design Building at KU.The faculty show's opening reception is from 2 p.m. to 4 p.m. today.
'Something under my skin'
McCrea's land near Lecompton reminds her of the jungles she has traveled to numerous times in the past 15 years.
She doesn't paint while she's in Central America and South America. Instead, she and a friend live with the natives and try to learn their culture.
But when she comes back, she said, "My head is full of ideas" for her art.
"It's not a matter of being a tourist. It's not something I appropriated," she said. "It's something under my skin."
"It's my way of not being a university professor all the time. I love the university and the department, but as an artist I have to find another life. And that feeds my soul."
Judith McCrea
One series of figurative oil paintings McCrea completed depicts bar scenes in Venezuela. She said they attempt to explain the relationship between the cultures in a mining town: native people, European investors and the descendants of African slaves.
Another series, McCrea said, depicts "prone nude females that are placed in completely unposed positions, that are ambiguous in that they suggest both sex and death. But the women are not presented as objects of desire."
Nourishing her soul
A sense of place is important to the 51-year-old McCrea.
Her studio near Lecompton reminds her of a building project she completed about 12 years ago, when she restored a 1903 inner-city arts bungalow in Wichita that was in danger of being torn down. She won two national preservation awards for her effort.
"Both represented a quest and a way of putting myself on an edge," she said. "Both places were unique challenges and both were important to me."
McCrea grew up in rural Augusta, where she loved to ride horseback. Many of her ancestors were farmers.
She came to KU in 1990 as an assistant professor. In 1993, she was named chair of the department. Her teaching jobs before coming to Lawrence included positions at the Wichita Art Museum, Wichita State University and Bethany College in Lindsborg.
Her work now is exhibited at the Wichita Art Museum and the Nelson-Atkins Museum of Art in Kansas City, Mo., among others.
Her "pet project" at KU, she said, has been to make the building and department more visible on the campus. There weren't any art displays in the building before she came, she said. She'd like to install light sculptures outside the building.
But, she admits, her secluded studio is what keeps her going.
"It's my way of not being a university professor all the time," she said. "I love the university and the department, but as an artist I have to find another life. And that feeds my soul."
Copyright 2018 The Lawrence Journal-World. All rights reserved. This material may not be published, broadcast, rewritten or redistributed. We strive to uphold our values for every story published.