Hutchinson — Crews toiling in freezing temperatures early Saturday failed twice to plug a leak in an underground gas storage facility that caused explosions and towering gas geysers in this central Kansas town.
"It's still a good idea," Larry Fischer, Kansas Gas Service vice president for operations, said Saturday.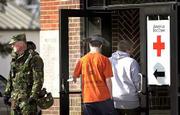 One blaze Wednesday destroyed two downtown businesses and another Thursday about 3 miles away at a mobile home park forced the evacuation of scores of residents, killed one man and seriously injured his wife.
Meanwhile, a pocket of underground gas was found early Saturday in the southeast part of the city, about 2 miles from the evacuated area. Officials were unsure whether it was related to the leak.
As a precautionary move Saturday afternoon, Cargill Salt Co. and Eaton Corp. shut down and sent their employees home because unacceptable gas levels were found outside the plants.
Fire Chief Gary Frazier said the move affected 14 Cargill employees, but he didn't know how many workers at Eaton, an airplane parts manufacturer, were affected.
Cargill is located near the gas pocket, but Frazier wasn't sure whether the gas that was detected was from the pocket. Eaton is about 1 1/2 miles away, and Frazier said that gas near it may be related to a leaking pipeline.
"We're doing a lot of precautionary things. We're not taking any chances," Frazier said. "The chance of explosion that is what we're concerned with."
Even so, Frazier said, there was no cause for alarm, adding, "I think it's safe here. People don't need to pack up."
The gas pocket is near a residential area and the Hutchinson Correctional Facility. Officials said there were no plans Saturday night to evacuate residents or the prison.
With overnight temperatures in single digits, crews were working Saturday to seal the leak and transfer the gas from the problem cavern to nearby storage areas.
The pipe removes gas from a cavernous area seven miles northwest of the city and about 550 feet below the surface.
The cavern is among 160 that make up the Yaggy Field, which has a combined storage capacity of about 3.2 billion cubic feet. Yaggy Field is owned by ONEOK, of Tulsa, Okla., and Kansas Gas Service is a subsidiary of ONEOK.
Crews were hampered in their efforts to seal the leak Saturday by cold weather, but planned to try again after getting a new plug.
Fischer said he didn't know how long it would take to get a new one, adding, "We don't find them at Wal-Mart."
Workers dropped two rubber plugs into the approximately 10-inch pipe used to remove gas from the storage facility.
Water then is injected into the plug to expand it and seal the pipe below the leak, Fischer said.
In both cases, the plugs didn't properly expand. Cold weather was blamed for one failure, but officials were unsure why the other failed.
Fischer said he wasn't discouraged by the two failures.
"I've seen it where we've set these four or five times. It's pretty complicated work," he said.
Wednesday's downtown fire continued to burn Saturday, fed by one of at least nine lingering plumes of gas from the leak. But officials were encouraged because the flames was much smaller Saturday an indication of decreased pressure.
"Compared to two days ago, I'm amazingly optimistic," said Mayor Patrick McCreary.
Amid bitter cold temperatures, water pumped onto the flames by firefighters boiled into steam, which rose into the air and condensed and froze, falling to the ground as snow.
The fire had gutted a party supply store and a furniture shop, injuring a couple who were planning their wedding inside the party store.
The walls of the furniture store were knocked down and the debris loaded on trucks Saturday. The sun glinted off the icicles hanging from the framework still standing.
Eight more gas geysers were clustered in the evacuated residential area. City officials said they didn't know when residents would be allowed back home to stay.
Workers on Saturday were drilling four wells designed to relieve the underground pressure.
Officials said all the gas came to the surface through old wells that had been capped and forgotten as the city was built up, around and above them. For instance, the downtown fire was fueled by gas coming through a mineral-water well built in 1906 for a spa.
Copyright 2018 The Associated Press. All rights reserved. This material may not be published, broadcast, rewritten or redistributed. We strive to uphold our values for every story published.