Washington — Missouri Supreme Court Judge Ronnie White told a Senate panel Thursday that attorney general nominee John Ashcroft blatantly distorted his record to block White's appointment to the federal bench in 1999, prompting senators from both parties to apologize for the way he was treated.
In testimony before the Senate Judiciary Committee, the soft-spoken White declined to ascribe motives to Ashcroft's behavior. But he said Ashcroft, then a senator from Missouri, treated him unfairly by failing to ask about his record on death penalty cases before falsely labeling him "pro-criminal" and a death penalty opponent on the Senate floor in October 1999.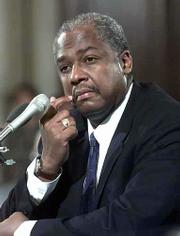 White, the first black to serve on the Missouri Supreme Court, said Ashcroft's handling of the matter raises questions about whether he is fair-minded enough to serve as attorney general. However, he said he did not think Ashcroft is racist a charge some of Ashcroft's critics have leveled.
"John Ashcroft seriously distorted my record," the soft-spoken White said. "But I believe that the question for the Senate is whether these misrepresentations are consistent with fair play and justice that you all would require of the U.S. attorney general."
In response to a question from Sen. Charles Schumer, D-N.Y., White said he had been the victim of a racial "double standard," in which Ashcroft allowed more liberal white judicial nominees to move swiftly through the Senate while blocking his nomination.
Committee Democrats called White as the star witness in the third day of their fierce, partisan battle over the confirmation of Ashcroft, whom they have sharply criticized for past racial insensitivity and opposition to abortion and gun control. Republicans, however, sought to dismiss charges of racism and questioned White's judicial record.
In a rare move by a home-state senator, Ashcroft led the opposition to White's appointment to the federal bench, persuading Senate Republicans to join him by claiming White was soft on criminals and too often reversed death penalty sentences.
White's testimony, and the unusual public apologies, marked another emotional moment in the grueling confirmation proceedings.
Nevertheless, senators of both political parties continued to predict that Ashcroft has enough votes to be confirmed. Some are uncertain, however, whether he could garner the 60 votes necessary to close off debate in the event of a filibuster.
Thursday, freshman Sen. Jon Corzine, D-N.J., said that he will vote against Ashcroft's nomination, joining Sen. Barbara Boxer, D-Calif., who had previously announced her opposition. One Democrat, Sen. Zell Miller of Georgia, has said he will vote for Ashcroft, and Republican leaders have said all 50 members of the GOP will support President-elect Bush's nominee.
Thursday, in a bid to debunk White's contention that one defendant deserved a new trial because his lawyers were incompetent, Rep. Kenny Hulshof, R-Mo., who had served as prosecutor in the case, and county sheriff Kenny Jones, whose wife was one of the victims, held a news conference where they graphically described the slayings. Committee Democrats called Ashcroft's treatment of White one of the sorrier moments in Senate history.
"What happened to you is the ugliest thing that's happened to any nominee in all my years in the United States Senate," said Sen. Edward M. Kennedy, D-Mass., who is considering a filibuster. "Your record in the Missouri Supreme Court was grossly distorted by Senator Ashcroft."
Copyright 2018 The Lawrence Journal-World. All rights reserved. This material may not be published, broadcast, rewritten or redistributed. We strive to uphold our values for every story published.