After 40 years of buying seed, hauling feed and collecting patronage checks from the Farmers Cooperative Assn., Charles Hodges isn't sure what to think about his co-op's pending bankruptcy case.
Even assurances from the co-op's top executive that all creditors would get their money back, that the operation would improve efficiency, that the sale of assets should cover any shortfalls couldn't restore all his faith.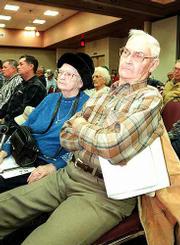 "It all sounds good," the Clinton farmer said Thursday, walking out of the co-op's annual meeting early. "But you know how that is."
At the Lawrence Holidome, about 550 members and employees of the state's largest cooperative association learned exactly how it is Thursday, nearly four months after FCA filed for Chapter 11 bankruptcy protection:
l The Lawrence-based co-op lost $1.55 million from local operations during the 2000 fiscal year, which ended July 31, on sales of $68.7 million. A year earlier the co-op earned $139,860 on sales of $62.7 million.
l All of the co-op's assets including elevators and stores from Burlingame to Rushville, Mo. will be up for sale. Officials expect them to fetch at least $8.4 million, and a group of area farmers is organizing to consider making an offer.
l Co-op attorneys say they cannot meet the U.S. Bankruptcy Court's Jan. 29 deadline for filing a reorganization plan, and say they will seek a 60-day extension.
"There is value in this business," said John Cruciani, a bankruptcy attorney for FCA. "This business is not under water. It is not hopelessly insolvent. There is value here."
The annual meeting gave the co-op's 3,665 members a chance to hear about potential strategies for emerging from the bankruptcy. Many in attendance still hold worthless checks for grain sold, are waiting for valid checks to arrive for previous sales or are unable to collect on certificates of investment.
But Don Dumler, the co-op's president and chief executive officer since May, distributed an "example" of a hypothetical plan that would allow the co-op to satisfy its listed debts of $19.7 million:
Generate $14.99 million from sales of fertilizer, grain and other products in stock.
Sell the co-op's headquarters and Ampride store in Lawrence, plus a farm store in Gardner and East Kansas Chemical and Vet Vax stock, for $3.4 million. The co-op's other locations and equipment would go for $5 million.
Pay off all secured creditors CoBank for $9.2 million and UMB Bank for $746,401 and satisfy all unpaid grain agreements for $4.27 million. Holders of certificates of investment and trade creditors would share $4.7 million.
The moves would put FCA $4.45 million in the black. After adding $10.1 million in proceeds redeemed from investments in other regional cooperatives, such as Farmland Industries and Ag Processing Inc., the co-op would pay $9.25 million to members to satisfy their equity and deferred patronage dividends.
That would leave about $5.3 million, within five or 10 years, to be paid out to members as it became available.
"These guys are all going to get paid someday," said Dean Nieder, a member of the co-op's board.
Added Dumler: "I'm 100 percent on that."
But others didn't buy it.
James Foster, who farms near Overbrook, criticized co-op officials for mulling the sale and possible elimination of elevators throughout the area. He said farmers needed the services to stay afloat, noting that losing a nearby elevator would add to his costs and cut into his valuable time.
He said he'd been dealing with the co-op for 38 years.
"They have forgotten about the communities that they deal with," Foster told the crowd. "They have forgotten about the people. They have forgotten about us. ...
"I'm mad as hell about it."
John Pendleton, who farms east of Lawrence, said he and more than a dozen other farmers were organizing an attempt to hire an accounting firm to compile a feasibility study about a possible local takeover of the co-op or at least its core operations.
"If Farmers Co-op is all of a sudden gone, it would make all of our farming lives a lot more difficult," he said.
Copyright 2018 The Lawrence Journal-World. All rights reserved. This material may not be published, broadcast, rewritten or redistributed. We strive to uphold our values for every story published.