When you think of a legendary blues guitar player, you don't generally picture someone sitting at a computer console piecing together digital tunes. If you're Lil' Ed Williams though, it's all part of keeping up with new technology.
Ed just bought a computer one that he plans to use only for the purpose of making music.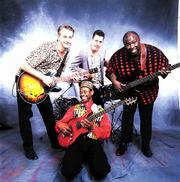 "I'm just really getting into it," he says, phoning from his Chicago home. "I still haven't gotten a full mix on it but I'm getting there. I've been toying with it for three days now and I think I just got the right hook-ups for it. There's so much stuff you have to get, and when you buy stuff from Radio Shack it ain't like you're getting the real deal. I have to buy the hook-ups I need but I have to buy them cheap because I can't afford the ones that actually go with the computer."
Though Ed's computer isn't top-of-the-line, he's still putting soul into his new machine like never before. Though he's only recording demos on the computer, Ed's plan is to present the band with finished demos and then record new versions live in the studio. The album is scheduled to be released later this year.
"On the other ones, I put in the lyrics and put a beat behind it and let the band do whatever they want. It does work good that way. But when you really sit down and mastermind the grooves yourself, you can put in exactly what you want. So this one might be a little harder to work on because the guys aren't used to me saying that this part has to be played EXACTLY like I want. When I presented them with it, they kind of looked at me like, 'Who you been talkin' to?'"
Techno music
What: Li'l Ed and the Blues ImperialsWhen: 9 p.m. SaturdayWhere: Grand Emporium, 3832 Main, Kansas City, Mo.Ticket information: (816) 531-1504
Technology has always played a role in Lil' Ed's life. His first job, at the tender age of 14, was television repair ("I got electrocuted a lot of times," he says laughing. "A couple of times my ears lit up.") Ed also continues to do alterations to his guitars without outside assistance.
"I like to build my own guitars because when you put what you want in 'em, you get what you want out of 'em," he says. "I don't trust anyone else with my stuff!
"Change is always good," says Williams, who also is using effects pedals for the first time.
He has purchased a whole slew of the brightly colored boxes, including distortion, compressor, acoustic simulator, equalizer and reverb. Though digital effects are no longer the taboo they once were in blues, Williams still received a little heat from the home front.
"When my wife first saw the pedals, she said, 'Oh, no! You're gonna be sounding like Jimi Hendrix and Stevie Ray Vaughan.' But these things you use to your advantage. You don't have to sound like the big boys. You just add a little here and add a little there and come up with what you really need."
Lil' Ed began his career working at a car wash during the day and barnstorming Chicago blues bars at night. Eventually word of Ed's slide guitar mastery got around and he was quickly signed to Alligator Records, a premier blues label. His debut album, "Roughousin'," was a critical and commercial success that placed Ed squarely in the center of the national blues scene. Along with his band, the Blues Imperials, Ed toured the globe many times over and recorded several more well-received albums.
In the mid-'90s the band went on hiatus for two years, returning with 1999's "Get Wild," an album with which Ed wasn't totally satisfied.
"We kind of did that one in a hurry," he recalls. "We just kind of went in and threw it together and did it. It came out really good, but there were a couple of songs on there that I thought could have been much better."
The time off was positive in many ways, though. Ed spent the interim recording with other artists and guesting on various projects. When the group reformed, the band's vibe was essentially the same, according to Ed.
"They pretty much know me, as far as music and certain things that I like," he explains. "So when we got back together, I think it was even better because they had been playing off and on with other bands and learned new things. It was the same thing with me. I came up with new feels and new chords and new licks. So, it kind of blends all together, you know?"
The blues autobahn
Ed and company recently finished a month-long stint in Europe, something he calls "good but also a little scary at the same time." It seems that Ed suffers from such overwhelming acrophobia that even driving through mountains is enough to terrify the blues man.
"They drive 90 miles an hour over there," Ed says, roaring with laughter. "I'm very afraid of heights and when I have to go through the mountain area it gets a little shaky. Some mountains I can deal with, but when you're talking about going through the Alps, I'm not too fond of that. It drains me because I'm scared all the time, and I can't sleep when we're driving through the mountains."
Ed also toured Japan last year, an event he recalls fondly. Not only was the band's reception huge (they played to crowds of 5,000 and up), but the Japanese blues musicians who opened his shows had perfected their craft despite language barriers.
"The musicians over there would get up and sing in English, and you'd say something to them and they'd have no idea what you're talking about," Ed says. "This cat was singing Bobby Bland and he was singing it word-for-word, playing the music. When he came (offstage), I shook his hand and said, 'Man, you sound great. Where did you learn this?' and he had no idea what I was saying. It was amazing!"
It's probably no surprise then, that the newly-married Ed has trimmed back his touring schedule considerably.
"Now that I'm married, the home life is real good," Ed says. "My wife's such a wonderful person. She deals with me when I have to go out on the road. If you can get that situation together the home life and the musician life then you got a good thing going for you. Every other lady I've had, I'd go out on the road, and they're like, 'Oh, you went out and did this, and you went out and did that, and you ain't no good.' To the average woman, the musician ain't no good. They know that a musician wants what he wants. So it's really hard to get a woman that will put up with that and have enough trust in you to go along with that deal."
Copyright 2018 The Lawrence Journal-World. All rights reserved. This material may not be published, broadcast, rewritten or redistributed. We strive to uphold our values for every story published.