Washington — Standing where Thomas Jefferson stood to send Lewis and Clark on their famous trek West, President Clinton acted Wednesday to protect more than 1 million more acres of land before leaving office, including areas the duo explored almost two centuries ago.
Clinton created seven new national monuments in Montana, California, Arizona, New Mexico, Idaho and the Caribbean with a ceremony in the East Room of the White House.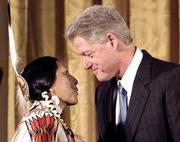 In an earlier version of that room, President Jefferson and Meriwether Lewis laid out maps and planned the expedition to the Pacific.
"Most of the landscape Lewis and Clark traversed nearly two centuries ago has changed beyond recognition: forests cut, prairies plowed, rivers dammed and cities built. That is the march of time," said Clinton, standing in front of a replica map of Lewis and Clark's trip and one of their compasses.
With the seven new monuments and the expansion of an eighth, Clinton has put more than 5.6 million acres both surface and below-water under federal protection during his administration.
Combined, that's an area larger than Massachusetts' 5.2 million acres.
The other new monuments created Wednesday by Clinton include Upper Missouri River Breaks along the Missouri River in central Montana; Carrizo Plain in central California; Sonoran Desert in south-central Arizona; Kasha-Katuwe Tent Rocks in north-central New Mexico; and Minidoka in south-central Idaho, which includes portions of a World War II-era Japanese-American internment camp.
Copyright 2018 The Associated Press. All rights reserved. This material may not be published, broadcast, rewritten or redistributed. We strive to uphold our values for every story published.