MANHATTAN, KAN. — On Saturday, No. 20 Missouri played a mentally and physically exhausting four-overtime game against Iowa State. On Tuesday, the Tigers stumbled around and were stunned, 80-59, by Kansas State.
If they were just too weary to put up a fight, they'll never admit it.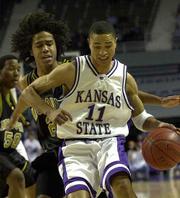 "This wasn't a question of fatigue," insisted Missouri coach Quin Snyder. "Kansas State executed so well on both ends. They hustled."
Matt Siebrandt scored 20 points and Kansas State held the Tigers to just 20 percent shooting in the first half.
No. 2 Duke 97, No. 25 Boston College
Durham, N.C. Jason Williams scored a career-high 34 points and had nine assists as No. 2 Duke won its sixth straight game.
Kentucky 84, No. 4 Tennessee 74
Lexington, Ky. Keith Bogans scored 21 points and Tayshaun Prince had 16 to lead Kentucky to its seventh straight win.
No. 13 Virginia 89, Florida St. 71
Charlottesville, Va. Keith Friel scored 15 of his 22 points on 3-pointers to lead five Virginia players in double figures.
No. 19 Wisconsin 67, No. 14 Iowa 54
Madison, Wis. Roy Boone and Mark Vershaw each scored 18 points and Mike Kelley shut down Luke Recker in Wisconsin's victory.
No. 23 Iowa St. 84, Colorado 68
Ames, Iowa Martin Rancik scored 19 points and Jamaal Tinsley had 16 points, nine assists and six rebounds to lead Iowa State to its 30th straight victory at home.
Texas Tech 60, No. 22 Oklahoma 59
Lubbock, Texas Jamal Brown hit a 5-foot bank shot between two defenders with 1.5 seconds remaining to give Texas Tech the victory.
Copyright 2018 The Associated Press. All rights reserved. This material may not be published, broadcast, rewritten or redistributed. We strive to uphold our values for every story published.