San Francisco — Those clouds of manmade fog that dazzle audiences nightly at operas, concerts and Broadway shows around the country may be doing more than creating atmosphere.
Opera chorus singer Pamela Dale said the fog is making her cough. Even worse, she said, it is keeping her from reaching high notes during performances.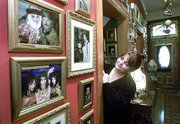 "I'm just trying to keep my job," Dale said. "But how can you sing when you're coughing?"
Dale, who sings with the San Francisco Opera, is one of many performers from New York to Seattle who have filed workers' compensation claims complaining of respiratory problems, throat irritation and other ailments that they blame on theatrical fog.
The type of fog that has given Dale the most problems, she said, is made from a chemical called glycol. It has been found to be safe in a number of studies and is used without problems in many performances.
But during the past 18 months, the 52-year-old singer has filed more than 50 complaints with the Occupational Safety and Health Administration, resulting in nine citations.
OSHA found that the San Francisco Opera needed to provide more training and education about the fog, something that has been completed, according to opera spokeswoman Elizabeth Connell Nielson.
"We are continually looking for whatever is the safest and most effective means of getting the kind of production results we want and need," she said.
The San Francisco Opera said it dropped glycol fog more than a year ago. They have instead used mineral oil, liquid nitrogen or dry ice, or combinations of those.
But Dale said the mineral oil fog also irritates her throat. The San Francisco Opera has permitted Dale and at least two other singers to skip any performances in which fog is used. As a result, Dale is putting in about half her usual performances.
"Our industrial hygienist has met with the chorus and said if you feel that you might have some sort of reaction to this, you're not going to lose your job, you're not going to lose your pay," said Russ Walton, the opera's director of human resources.
Alexandra Nehra, another San Francisco Opera singer who has filed a workers' compensation claim, said her problems started during a performance of Verdi's "Nabucco" during a scene that used fog and propane torches. "I was coughing up black stuff," Nehra said.
Glycol fog machine manufacturer Rosco International of Stamford, Conn., maintains the fog is safe when used properly, meaning not "overfogging" and using only fluid recommended by the manufacturer.
"We have been advised over the years that this is an extremely safe material to be around," said Eric Tishman, senior product manager. Even so, Tishman said the minimum amount of fog needed to achieve an effect should be used, or it could cause dryness in the throat and nose.
Others maintain that the fog cannot do any permanent damage.
"When somebody sees a smoke or fog like this, it's a psychological problem," said Jim Kehrer, head of pharmacology and toxicology at the University of Texas.
"If you see some sort of fog or smoke rolling at you, and you already have a breathing problem, it's going to get worse."
Singers are not the only ones to complain. In 1995, nearly a third of the 25 members of the pit orchestra in the Broadway production of "Beauty and the Beast" complained of asthma-like effects, according to Bill Moriarity, president of American Federation of Musicians Local 802.
Dale said that opera houses should be more creative with lighting and rely more on imagination.
But "they'll stop using it when someone like Luciano Pavarotti gets a reaction to stage fog," said lawyer Steven Weiss, whose client Will Roy, an opera singer, received an undisclosed settlement from the Cleveland Opera after claiming he suffered an allergic reaction in 1990.
Copyright 2018 The Associated Press. All rights reserved. This material may not be published, broadcast, rewritten or redistributed. We strive to uphold our values for every story published.