The wonder of wasabi
Wasabi may do more than add a kick to sushi. The pungent green horseradish also could prevent tooth decay, according to findings presented at a recent scientific meeting sponsored in part by the American Chemical Society. Researchers from Japan found that chemicals in wasabi inhibit the growth of bacteria that causes dental decay.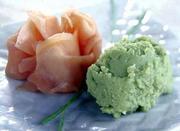 ---
It's all in the game
This week "Guided By Flavor" host Tony Nave explores cooking with wild game.
A new show airs at 6:30 p.m. Tuesday each week on Sunflower Cablevision Channel 6 and repeats at 8:30 p.m. and 10:30 p.m. The show also airs at 8:30 p.m. Wednesday-Friday, 9:30 a.m. Sunday and 8:30 p.m. Monday.
---
Really Slim pickings
Slim Jims? Other than the name and the shape, there's nothing slim about it, Men's Fitness magazine says. "This witches' stew of spicy bovine leftovers and 'mechanically separated chicken,'" as Men's Fitness described it, received the dubious distinction of being named the publication's January "Anti-Food of the Month."
Extremely popular almost $35 million in 1999 sales 80 percent of Slim Jims' 150 calories comes from fat, half of which is saturated, the magazine says. "And," the magazine adds, "there's enough sodium in one stick to gag an ungulate" that being the category of mammal that includes swine, camels, hippopotamuses, horses, rhinos and elephants.
Copyright 2018 The Lawrence Journal-World. All rights reserved. This material may not be published, broadcast, rewritten or redistributed. We strive to uphold our values for every story published.