Eight is enough
Twice an Oscar winner and eight times a bride, Elizabeth Taylor said she has no interest in extending her string of marriages to nine.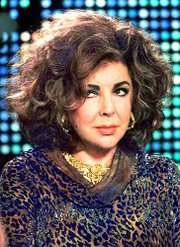 "I'd live with someone if he were cute, intelligent, compassionate, adorable, had a good sense of humor," the 68-year-old actress, sporting a new look with a bright red hairstyle, said on CNN's "Larry King Live" Monday night. But she ruled out marrying again.
Taylor said she had two great loves in her life, actor Richard Burton, who was married to her twice, and Broadway producer Mike Todd, who died in a plane crash just 13 months into their relationship.
"I didn't think I was going to live after that," she said. "I didn't want to live.
"There must be something left for me to do," said Taylor, who has spent much of her time in recent years raising money to fight AIDS. "And I have to find out what that something is and go out there and do it!"
Waiting for the end of the world
Kirk Cameron hopes his new film about an apocalypse will prompt moviegoers to do some hard thinking. "There's a possibility this stuff is going to happen, so I hope the movie will make people take a look at how authentic their own faith is and consider the truths of the Bible," the 30-year-old actor said. The film, "Left Behind," is based on the best-selling Christian novel by Jerry B. Jenkins and Tim LaHaye and depicts a vision of the end of time drawn from the Bible. The movie opens Feb. 2.
Axl Rose blooms again
After years in seclusion, Axl Rose reappeared in a big way Sunday, performing in front of 200,000 screaming fans in Rio de Janeiro. Rose was backed by a new version of his band, Guns N' Roses, and renditions of such old favorites as "Welcome to the Jungle" and "Sweet Child O' Mine" stirred the exhausted crowd to life.
The group closed out the third night of a seven-night extravaganza called Rock in Rio for a Better World. In the late '80s and early '90s, the often controversial Guns N' Roses was one of the most popular acts in music, but founding members Slash and Duff McKagan quit and Rose virtually disappeared.
'Creek' sweet 'Creek'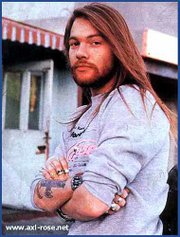 Success has come quickly for "Dawson's Creek" sweetheart Katie Holmes, and it still hasn't sunk in.
"I think it will only be when I'm older and looking back that I'll really be able to appreciate what I have now," Holmes told the New York Daily News. "Because I'm involved in it, and it's so close, I still can't believe it's happening."
Holmes, 22, hadn't been pursuing an acting career for long when she got her first big break in 1997 a role in Ang Lee's critically acclaimed "The Ice Storm." Holmes has co-starred in "Dawson's Creek" since 1998, and she's not looking forward to the day the TV drama goes off the air.
"When it's over, I think it will be like the end of high school," she said. "It will be a very hard transition, and very sad."
Copyright 2018 The Lawrence Journal-World. All rights reserved. This material may not be published, broadcast, rewritten or redistributed. We strive to uphold our values for every story published.