Lawrence High wrestling coach Jeff Tummons said he came up with 50 possible scenarios for how the intracity dual would turn out on Tuesday night.
Make that 51.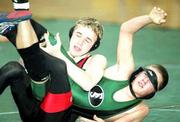 LHS sophomore Kenny Poeverlein pinned FSHS sophomore Grant Steinbach with 46 seconds remaining in their 275-pound match as the Lions survived a late charge from the Firebirds, 37-30, in front of an estimated crowd of 410 at the FSHS gym.
"It was a good match," Poeverlein said after LHS knotted the all-time city series at 2-2. "Grant Steinbach's a good wrestler. He went out there and did his best and I went out there and did my best.
"I guess the better guy just came through in the end."
Although the dual featured the emotion and electricity that's expected of an intracity showdown, the outcome was anything but ordinary.
The Lions bolted to a 33-16 lead, only to see it trimmed to 31-31 that's right, LHS lost two points for unsportsmanlike conduct after being docked a point earlier and Free State lost a point later when FSHS junior Ian Bpinned LHS sophomore Bobby Brubaker at 215.
Brubaker blacked out during the match, was carried off on a stretcher and taken to Lawrence Memorial Hospital. He was admitted for observation, according to the LMH nursing supervisor.
B who later said he "felt his body go limp" about Brubaker, upped his record to 13-5 with his 13th pin.
"It's exciting, but that's not how you want to win a match," Bsaid. "You don't want to hurt somebody. I guess it doesn't matter. Everybody on the team has to do their job and not everybody did tonight."
There was about a 20-minute delay following the match as Brubaker was being attended to. Poeverlein, who said the pressure of the final match was "about the same" as would be expected during the state tournament, had plenty to think about while waiting.
"I was worried," Poeverlein said of his fallen teammate. "One of the main things going through my head was, 'Is he going to be all right?' Another main thing was that I was going to go out there and win this match for him. That's the best I could do for him."
Both the Lions (10-5) and Firebirds (1-4) traded points early until LHS senior Sean Patton broke a 16-16 tie by pinning FSHS sophomore LeRoy Goodman in the first round at 140. Patton, who improved to an impressive 21-0, personified senior leadership in his final city dual.
"We tried to explain to the underclassmen exactly what this meant to all of us, what it means to the community, to Lawrence High," Patton said. "You don't really understand it unless you're here and you see the intensity and how bad each of these schools want it."
The Firebirds' fistful of freshmen fared well during their first taste of an all-city dual. All told Matt Somers (112), Adam Berg (119), Josh Sanderson (130), Dain Morris (135) and Kyle Unruh (145) broke even, accounting for 12 points and giving up 12 points.
"A few days ago we had it figured out that we'd be getting beat by 12, 15 points," FSHS coach Darrell Andrew said. "The kids really came through. I was really impressed with the freshmen. They competed well. They didn't give up the pins and we actually got a pin out of our 130 pounder, Josh Sanderson."
Chalk it up as just another chapter in the growing lore of the LHS-Free State series.
"I would have bet a lot of money on it that it would have come down to the final match," Tummons said. "When we lost those points there I was starting to think a little bit. We knew at the beginning of the week that the heavyweight would probably be the determining factor of this dual."
Copyright 2018 The Lawrence Journal-World. All rights reserved. This material may not be published, broadcast, rewritten or redistributed. We strive to uphold our values for every story published.