Variety is the spice of life.
That's never more true than when talking about brown-bag lunches a catchall phrase for that quintessential, portable meal enjoyed (sometimes) midway through the work day.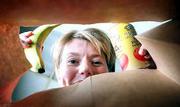 Ask anybody who's ever been part of the lunchpail crowd: Bringing the same thing, day after day, is deadly.
You've got to mix it up a little throw in an oddball ingredient or a favorite treat to liven things up at the lunch hour.
And don't look down your nose at that staple of sack lunches leftovers.
If last night's supper was a real winner, pack up the extra food for tomorrow's noontime meal. It'll taste just as good, and maybe better.
Recent conversations with employees of two area companies that have large contingents of brown-baggers revealed the ups and downs of the common sack lunch.
From spaghetti to rice
Gladys Cartas, a native of Ecuador and a 21-year employee of Honeywell Aerospace Electronics Systems, 2920 Haskell Ave., brings her lunch to work almost every day.
"I bring Spanish food rice and beans that I cook, chicken and rice. Today I have Chicken Cacciatore over white rice," she said.
Cartas cooks after she gets home from work so she'll have food for lunch the next day. "I change every day. I try to incorporate new things as I learn new recipes."
Her favorite meal to bring for lunch is homemade spaghetti with meat sauce. Her least favorite item to pack in a brown-bag lunch: green vegetables.
LuWanda Anderson has worked for Honeywell for 13 years.
"I bring my lunch just about everyday. Today I have some pork and beans, meatballs and rice. It's cheaper to make your own food," she said.
Anderson also likes to bring green beans, corn, baked chicken and fruit cocktail cups.
She usually brings leftovers from the previous night's dinner. And she pairs it up with a soda and chips from a vending machine at work.
Her best brown-bag lunches feature reheated grilled steak, a baked potato and a tossed salad.
"Everything (for the salad) is individually wrapped cheese, tomatoes, lettuce. I bring dressing from home."
Sometimes she makes do with store-bought soup in a ready-to-heat container. "That's not exciting, but it's convenient," Anderson says.
Anderson's friend, Barbara Saulsby, has worked at Honeywell for 30 years.
Saulsby brings her lunch to work about three times a week. Usually, it's made up of leftovers.
"I bring spaghetti, pork chops with creamed corn, grilled T-bone steaks and salad. Sometimes I'll bring lasagna," she said. "Everything I bring, I like."
Rita Blankinship is a four-year employee of Honeywell.
Lately she's been bringing microwave meals from Weight Watchers for lunch. There's a big variety to choose among, she says, and the meals are cheap about $2 per entree.
"I also make stir fries a lot beef or chicken with rice," she says.
Georgie Denisar of Honeywell makes brown-bag lunches most days for her and her husband.
"Tomorrow, we'll probably have pork, sauerkraut and mashed potatoes. It's in the slow-cooker right now. When I go home I'll mash the potatoes, and lunch will be done," Denisar says.
Nita Taylor of Honeywell packs a varied menu of dishes for lunch.
"It's according to how I feel: spaghetti, collard greens, lasagna, fried chicken, fried fish. I just bring whatever I feel like eating. I like leftovers; everything tastes better the next day," Taylor says.
'It's pretty old'
Over at Amarr Garage Door, 3800 Greenway Circle in East Hills Industrial Park, there are plenty of brown-baggers, too.
Sarah Miller is an intern at the company.
"I bring my lunch about twice a week, usually leftovers from the night before. I've got Hamburger Helper today. I think it's Italian something. I made it four days ago, so it's pretty old," she says.
Other days, she'll just eat a turkey sandwich. "It's just lunch. It's nothing to get too excited about."
Phyllis Barnhart packs her lunch almost every day.
During a recent meal, she was eating a ham sandwich on white bread; Yoplait coconut cream pie-flavored yogurt; and potato chips.
"It's mostly just yogurt and pasta salads. I usually try to bring something different so it's not the same old things," Barnhart says.
Zach Snyder packs a lunch almost every day. But he often supplements it with an additional sandwich or slice of pizza from a takeout restaurant.
Snyder was enjoying a sub from a nearby sandwich shop, as well as his lunch from home: fried chicken, bread and butter, a red apple, carrot sticks, Oreos and a chocolate Crunch Bar.
The key for Snyder and for many brown-baggers is variety.
"I try not to buy too much of the same thing at once," he says. "One time I made baloney sandwiches for about two months. I got worn out on it pretty quick."
Copyright 2018 The Lawrence Journal-World. All rights reserved. This material may not be published, broadcast, rewritten or redistributed. We strive to uphold our values for every story published.