Washington — John Ashcroft, whose nomination as attorney general has become the focus of a fierce partisan struggle, pledged Tuesday to "serve as the attorney general of all people," vigorously enforcing the nation's laws despite his personal belief that some of them are wrong.
At the opening of contentious hearings that underscored deep divisions on the Senate Judiciary Committee and beyond, Ashcroft defended his record as a Republican senator, governor and attorney general, arguing that he has upheld laws on abortion and separation of church and state that conflicted with his religious and personal views.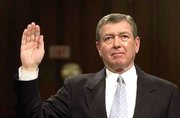 "I understand that being attorney general means enforcing laws as they are written, not enforcing my own personal preference," the former senator said in his opening statement to colleagues on the committee where he served until a few weeks ago. "It means advancing the national interest, not advocating my personal interest.
"When I swear to uphold the law," Ashcroft declared later, raising his right hand, "I will keep my oath, so help me God."
Ashcroft's statements his first public remarks since he was nominated Dec. 22 were aimed at deflecting a volley of attacks from Democrats on the committee, who questioned whether Ashcroft can fairly administer laws relating to abortion, civil rights and guns given his deeply conservative legal and political history on those issues.
"His intense efforts have made him one of the principal architects of the ongoing right-wing strategy to dismantle Roe v. Wade ," said Sen. Edward M. Kennedy, D-Mass., who made some of the sharpest statements against Ashcroft Tuesday.
"President-elect Bush has asked us to look in Senator Ashcroft's heart. ... But actions speak louder than words, and based on his repeated actions over many years, it is clear that Senator Ashcroft's heart is not in some of the most important of the nation's laws," Kennedy said.
Ashcroft has proposed a constitutional amendment that would outlaw nearly all abortions, including in cases of rape and incest, and is opposed to most forms of contraception. But Tuesday he suggested that his opposition to abortion would not prevent him from protecting abortion clinics from violent protests.
'Ashcroft standard'
Sen. Patrick Leahy, D-Vt., who is chairing the committee this week while Democrats have control of the Senate, alleged that Ashcroft's successful campaign to derail a federal court appointment for Missouri Supreme Court Justice Ronnie White and other Democratic nominees he considered unfit for federal posts rested on ideology rather than professional qualifications. He questioned whether Ashcroft himself could meet the "Ashcroft standard."
Republican committee members all of whom say they intend to vote to confirm Ashcroft decried the tone of some of the questions and the well-organized campaign against Ashcroft as examples of the "politics of personal destruction" in Washington.
They accused opponents of demagoguery and religious discrimination and said they were confident Ashcroft will be confirmed once the smoke has cleared. Bush's spokesman, Ari Fleischer, said Bush is prepared to telephone senators if necessary to secure Ashcroft's appointment.
"I, for one, will make my decision based on facts, not innuendo and rumor and spin," said Sen. Orrin Hatch, R-Utah. "I will not let special-interest groups with an agenda far out of the mainstream hijack the Judiciary Committee."

Flooding Capitol Hill
A broad coalition of civil rights groups, abortion protesters, women's organizations and other liberal activists have flooded Capitol Hill with tens of thousands of letters, e-mails and telephone calls against Ashcroft in a campaign that many compare to the opposition to Supreme Court nominee Robert Bork in the 1980s. The NAACP which was instrumental in defeating Ashcroft's Senate bid in Missouri last year said Tuesday it would campaign against senators who vote to confirm Ashcroft as a near-litmus test on civil rights.
A counter-campaign of support for Ashcroft has been waged by more than 100 antiabortion groups, gun rights advocates and other conservative organizations.

Tit for tat
Ashcroft showed in his first day of testimony that he would not hesitate to defend his positions, even as he maintained the decorum common to Senate debate.
Ashcroft frequently offered detailed explanations to questions, reading slowly and deliberately from decisions he made years ago as a Missouri politician. He also took some good-natured shots at Kennedy, who accused him of depriving black students of a decent education by blocking voluntary school desegregation efforts in St. Louis and Kansas City for years.
"When the machine gun of charges come out, I want to try to defend against all the lead," Ashcroft said.
A few minutes later, Kennedy criticized Ashcroft for vetoing two Missouri bills that would have promoted voter registration in St. Louis, suggesting he did so to prevent more blacks from voting. When Kennedy interrupted the nominee in the middle of his answer, Ashcroft said, "It just takes a lot longer to answer these charges than it does to make them."
In addition to a proposed "Human Life Amendment," Ashcroft has proposed laws that would have limited women to one abortion a lifetime and outlawed abortions sought for financial or career reasons. He has called Roe "a miserable failure" that should be overturned.
"I believe Roe v. Wade as an original matter was wrongly decided. I am personally opposed to abortion," Ashcroft said Tuesday. "But I well understand that the role of the attorney general is to enforce the law as it is, not as I would have it. ... I will follow the law in this area and in all other areas."
He also defended his record on racial issues, pointing to the number of black judicial candidates he supported as a governor and senator, and said he worked against desegregation plans in St. Louis and Missouri because of their cost and because he felt federal judges had overstepped their authority.
"No American should fear being stopped by police just because of skin color, and no woman should fear being threatened or coerced in seeking constitutionally protected health services," Ashcroft said.
'Fairness, not favoritism'
In a poignant moment, Ashcroft was formally introduced to the Senate Judiciary Committee by Sen. Jean Carnahan, D-Mo.,, widow of the Missouri governor who defeated Ashcroft in last year's Senate election weeks after he was killed in a plane crash. In keeping with Senate tradition, Ashcroft had asked her to introduce him, but she stopped short of offering an endorsement.
"I urge you to show him fairness but not favoritism ... and base your decision on principle but not partisanship," she said.
Copyright 2018 The Lawrence Journal-World. All rights reserved. This material may not be published, broadcast, rewritten or redistributed. We strive to uphold our values for every story published.