Miami — Anthony Mason's inside muscle and Dan Majerle's outside shooting was a winning combination for the Miami Heat.
Mason scored 23 points and grabbed a season-high 18 rebounds, and Majerle hit a pair of crucial three-pointers as the Miami Heat beat the Detroit Pistons, 93-85, Tuesday night.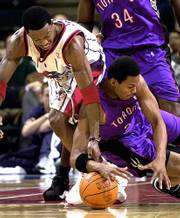 Miami won its eighth straight home game and 10th in the last 13 overall.
Mason supplied the scoring and rebounding for Miami, but Majerle added the spark with his nine points and strong defense.
"Dan gave us a spark with a couple of big plays," Heat coach Pat Riley said. "We were dead for about 12 minutes. We just could not get our game together."
Jerry Stackhouse scored 28 points for Detroit, which dropped its sixth straight and lost for the ninth time in 10 games. Stackhouse shot 11-for-30 from the field, including 3-for-15 in the second half.
Miami point guard Tim Hardaway left the game in the third quarter with a lower back strain. He finished with nine points in 20 minutes and his status is uncertain.
Brian Grant scored 14 points for the Heat. Anthony Carter, Hardaway's replacement, added 12 points. Eddie Jones and A.C. Green each scored 11 for Miami.
Jud Buechler and Joe Smith each scored 12 for Detroit, and Dana Barros added 11.
Detroit held an opponent under 100 points for the first time in 10 games. Miami has scored less than 100 points in 10 of its last 12 games.
The Heat put the game away with an 11-3 run late in the fourth quarter.
Carter hit a jump shot and Majerle made a three-pointer as Miami opened an 82-74 lead with 3:51 left.
Majerle then stripped the ball from Stackhouse, triggering an alley-oop pass from Carter to Jones, whose dunk gave the Heat a 10-point lead, 84-74, with 3:28 remaining.
Rockets 114, Raptors 99
Houston Cuttino Mobley scored 26 points and Maurice Taylor had a season-high 24 as Houston improved to 5-1 against Toronto at home and snapped the Raptors' three-game winning streak. Walt Williams added 13 points and Steve Francis scored 12.
Bucks 112, Clippers 91
Milwaukee Ray Allen scored 32 points and Glenn Robinson had 29 points and 12 rebounds as Milwaukee earned its fifth straight victory. Sam Cassell had 20 points and matched his season-high with 14 assists as the Bucks made 47 of 85 shots.
Blazers 103, Cavaliers 83
Portland, Ore. Bonzi Wells scored 20 points and Steve Smith had 19 as Portland defeated Cleveland. Rasheed Wallace added 18 and Arvydas Sabonis 16 in just 20 minutes.
Copyright 2018 The Associated Press. All rights reserved. This material may not be published, broadcast, rewritten or redistributed. We strive to uphold our values for every story published.