Topeka — Members of a legislative committee looking into alleged shenanigans at the Kansas Lottery received an unpleasant surprise Tuesday.
They found out their staff had been ordered by the governor's office to keep quiet about a computer technician accused of stealing nearly $63,000 from the lottery.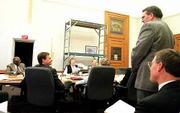 Stung by the news, lawmakers said they didn't how the order would affect efforts to investigate the lottery's operations.
"If our staff is under a gag order," said Rep. Doug Mays, R-Topeka and chairman of the House Federal and State Affairs Committee, "that would shut down any kind of discourse concerning alleged irregularities at the lottery and these irregularities are something we have to investigate."
Legislators are worried about the integrity of lottery games because of alleged ticket fixing by the former employee, and allegations of sexual misconduct and alcohol abuse at lottery offices.
Lawmakers also want to review the lottery's relationship with GTECH, a West Greenwich, R.I., company that has a contract worth $7 million a year to run the lottery's computerized games.
Committees in the House and Senate each set aside three days this week for hearings on the lottery.
Rep. Rick Rehorn, D-Kansas City, the committee's ranking minority member, said, "It would have been nice to have known about this before the hearing started."
The order was handed down in early October by the governor's chief counsel Natalie Haag. It was in reaction to a letter from assistant Atty. Gen. Stephen Maxwell informing the governor's office that a Shawnee County District Court judge had imposed a gag order in the case against former lottery worker Richard Lee Knowlton.
Haag, in turn, forwarded Maxwell's warning to the Legislative Research Department, which collects information on behalf of the Legislature.
During testimony Tuesday, Russell Mills, a researcher assigned to the House Federal and State Affairs Committee, said he took the order seriously and was uncomfortable telling lawmakers much about the lottery's inner workings.
"I don't want to see any more of the Shawnee County Jail than I already have," Mills said, referring to earlier legislative tours of the facility.
Mary Tritsch, spokeswoman for the Kansas Attorney General's Office, said Maxwell's letter was not intended for legislators or their staff.
And Don Brown, spokesman for Gov. Bill Graves' office, said Haag's forwarding the warning was not meant to stifle the Legislature's inquiry.
"All she did was let people know that there was a gag order in this case," Brown said.
Lottery director Ed Van Petten, who was scheduled to testify today before the federal and state affairs committees in the House and Senate, said he won't shed much new light on the Knowlton case.
"My feeling is that anything that's already been reported, we could reiterate," he said. "But as far as talking about any evidentiary matters that I'm aware of, no, I don't think I can testify or report any of that information."
Knowlton, 55, is charged with using his access to the lottery's computer system to convert 139 losing scratch tickets to winners, stealing about $63,000.
Knowlton, who hass admitted rigging 12 tickets, was arrested Sept. 14. His trial is set for April.
The legislative hearings continue through Thursday.
The lottery is scheduled to end July 1, 2002, if the Legislature doesn't reauthorize it. Gov. Bill Graves and others say the Legislature needs to make a decision this year, giving the lottery a year to phase out, if it is allowed to lapse.
The agency contributes about $60 million each year to education, prison, juvenile justice and economic development programs.
Copyright 2018 The Lawrence Journal-World. All rights reserved. This material may not be published, broadcast, rewritten or redistributed. We strive to uphold our values for every story published.