According to the calendar, it's been 10 years.
Why have those 10 years have done so little to dim the memories?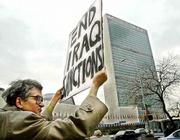 Why can Mark Johnson so vividly recall helping to rescue wounded Egyptian soldiers from a minefield?
Why does Darrell BlueBack still remember his automatic reactions to battle?
And why are Douglas Berg's memories of reunion with his wife and son after the war still so sweet?
This week marks the 10th anniversary of Operation Desert Storm, a war that started with a line drawn in the sand, the 20th century's last great land-and-air conflict watched by millions on live television.
Just 41 days after allied bombing raids started Jan. 17, 1991, the United States and its allies had saved a tiny country called Kuwait from a dictator named Saddam Hussein.
TV viewers saw tracers rising up dramatically against a dark sky, along with comforting video clips that showed sleek allied rockets seeking and destroying enemy targets.
Veterans' memories
Those who were there, though, have different memories. They saw a sun blotted out by smoke from burning oil wells. They traveled past seashores blackened with spills from sabotaged refineries. They felt the grit of the desert sand in their food, slept with their gas masks, missed their loved ones, hated the heat, prayed for peace.
"Iraq's military is nothing more than a pimple on a bear's rear end now."
Mark Johnson
Johnson's memory is of the rescue that helped him earn the Bronze Star.
"The Egyptians wanted to just leave them there, but we said 'no,'" he said of himself and three other Special Forces Green Berets who fought with the Egyptians to retake Kuwait.
BlueBack, a Marine infantryman who operated a mortar, remembers the lightning-quick fierceness of battle.
"Everything would just happen so quickly," he said. "You just reacted. You didn't have time to do everything you were trained to do."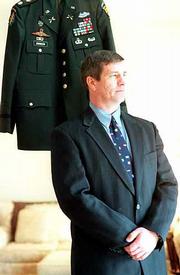 Berg, then a tank mechanic, remembers the reunion with his wife and 4-year-old son after returning after the war to his home base in Germany.
Berg, 39, is the only one of the three veterans interviewed who remains in the military. Now a staff sergeant with the Army Recruiting office, 2223 La., his 1st Armored Division had been in Saudi Arabia for only a few days when the air war began that mid-January 10 years ago.
'It was terrifying'
In late February, ground forces joined the attack, and Berg rode in a tank recovery vehicle about 50 yards behind M1A1 and M1A2 battle tanks.
"To be honest with you, it was terrifying," Berg said, recalling the morning his unit moved into Iraq to try to sweep around behind the Iraqi Republican Guard troops. "We didn't know what to expect. After the second engagement we began to settle down."
BlueBack, 33, went into Kuwait with the 1st Marine Division, and saw the burning oil wells set on fire by retreating Iraqis.
"It was weird," said BlueBack, who now works in food service at Haskell Indian Nations University. "It was afternoon and it looked like night."
Johnson, then a captain with the Fifth Special Forces, hunted SCUD missile launchers in northern Iraq as part of a covert operation before the ground war. He never saw any missiles and his experiences there were relatively uneventful, he said.
Johnson, 42, retired from the Army last year. His last assignment had him heading ROTC at Pittsburg State University and serving as chairman of the school's military science department.
Disappointing outcome
He now works as a motivational speaker and does business as Camouflage Communications Inc. out of his Eudora home.
Johnson also wrote a book that was recently published, "How to Get People to Follow You Anywhere ... Green Beret Secrets to Leadership and Team Building." A book signing is scheduled for Feb. 3 at Borders Books, Music and Cafe, 700 N.H.
Both Johnson and BlueBack also recall being surprised that the Gulf War ended as quickly as it did. They wanted to finish off the Iraqi army and Saddam Hussein, who remains in power today.
"I think we'll eventually be involved in another conflict with them," BlueBack said.
Johnson, however, thinks U.S. leaders made the right decision, even though Iraq's actions sometimes are annoying.
"Iraq's military is nothing more than a pimple on a bear's rear end now," he said.
Copyright 2018 The Lawrence Journal-World. All rights reserved. This material may not be published, broadcast, rewritten or redistributed. We strive to uphold our values for every story published.