Kinshasa, Congo — President Laurent Kabila, the onetime rebel who seized power and then fought to rule over this vast and troubled nation, died Tuesday after being shot at his Kinshasa residence, Kabila's U.S. spokesman said.
The shooting occurred during an attempted coup to topple Kabila's government, which has been battling a number of rebel movements for more than two years, officials in Kinshasa said.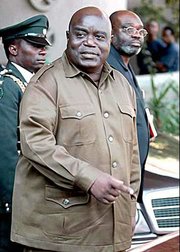 "He's died," said John Aycoth, a lobbyist and public relations consultant who acts as Kabila's spokesman in the United States.
Aycoth, speaking by telephone from Durham, N.C., said he had spoken to top level Congolese officials in Kinshasa, who had confirmed Kabila's death. He said the Congolese government would make an announcement today on what had happened.
French and Belgian foreign ministry officials quoted sources as saying they thought he died of his injuries.
"From three sources I have that Kabila has most likely been shot to death," Belgian Foreign Affairs Minister Louis Michel said in Brussels following a crisis meeting with the Cabinet.
Earlier, his spokesman, Koen Vervaeke, said, "From two sources of whom we are 100 percent certain, we can confirm that Kabila has died. He has probably been shot by one of his guards."
A member of Kabila's security entourage said on condition of anonymity that the bodyguard had shot the president in the back and right leg during a coup attempt. Kabila was alive and was being treated by doctors, he said without elaborating.
Intelligence officers in Rwanda also said they had unconfirmed reports that Kabila was killed in the intense shooting Tuesday afternoon at the presidential palace, which lasted a half-hour. Rwanda supports rebels fighting to topple the Congolese strongman.
The Congolese government would not elaborate publicly on their president's condition, or even whether he'd been shot.
"President Kabila is alive and everything is OK," Congolese Gen. Francois Olenga said.
Copyright 2018 The Associated Press. All rights reserved. This material may not be published, broadcast, rewritten or redistributed. We strive to uphold our values for every story published.