Nestle, Ralston Purina announce merger
As expected, food giant Nestle S.A. said Tuesday that it would buy pet food maker Ralston Purina for $10 billion in cash, linking such brands as Alpo, Purina, Friskies and Meow Mix.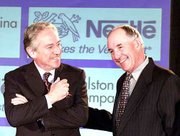 Nestle S.A. chairman Rainer Gut, left, shared a laugh with Ralston Purina chairman William Stiritz during the announcement. They expect the deal to close by year's end, subject to regulatory and shareholder approval.
---
Tyson-IBP
Attorney general to review acquisition
Atty. Gen. Carla Stovall plans to review Tyson Foods Inc.'s pending acquisition of IBP Inc. to determine if it meets state antitrust requirements.
Kansas would join a group of other states currently Iowa, Missouri, South Dakota, Texas and Minnesota in reviewing the "anti-competitive impact" of the merger, said John Campbell, senior deputy attorney general, in a letter to state Sen. Derek Schmidt, R-Independence.
A merged Tyson-IBP would be expected to control more than 30 percent of the chicken and beef markets, plus 18 percent of the pork market.
---
Airlines
Icahn mulls fighting American for TWA
Carl Icahn, the billionaire financier who formerly ran Trans World Airlines Inc., reportedly is trying to line up partners for a rival bid against American Airlines' deal for the assets of financially ailing TWA.
An Icahn representative declined to identify potential third parties contacted about an Icahn bid.
AMR Corp., the parent company of American Airlines, said last week it had agreed to pay $500 million and assume responsibility for $3 billion in TWA's aircraft leases in a deal for most of TWA's assets.
---
Economy
Inventories rise as sales drop
Inventories of unsold goods at U.S. companies piled up in November as sales fell for the second consecutive month, adding to mounting evidence of a slumping economy.
The Commerce Department reported Tuesday that stockpiles of goods on shelves and backlots nationwide rose by 0.5 percent to a seasonally adjusted $1.22 trillion in November. Sales dropped by 0.3 percent to $896.3 billion.
---
Trucking
Penske to buy Rollins
Penske Truck Leasing Co. has agreed to acquire Wilmington, Del.-based Rollins Truck Leasing Corp. for approximately $754 million.
The deal announced Monday unites the country's second-largest truck leasing and rental company, Penske, with the third-largest, Rollins. Ryder is the No. 1 truck leasing company.
Copyright 2018 The Lawrence Journal-World. All rights reserved. This material may not be published, broadcast, rewritten or redistributed. We strive to uphold our values for every story published.