More than 10 years after public outcry saved the Chicken Creek Bridge from demolition, a project to restore the unusual structure has begun.
Though the stone arch bridge no longer will be open to vehicular traffic after Monday, the project entails restoring the span to its original condition.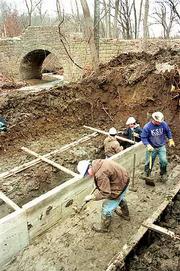 "They just don't build bridges like they used to," Dennis Domer said Tuesday. "It's a bridge that Lawrence and Douglas County can be proud of."
Domer, a retired Kansas University architecture professor, spearheaded a 1989 drive to save the bridge, which is on the National Register of Historic Places.
Workers on Tuesday were clearing brush east of the bridge where a new road will be built, said Keith Browning, Douglas County director of public works.
The simple stone bridge was built in 1913 to get farmers and other people across a tributary of Chicken Creek is one of the few masonry bridges still intact in the county.
Browning said deteriorated mortar and limestone rocks would be replaced and arch abutments will be underpinned with concrete to prevent further erosion. Some of the more visible work includes new stone columns to support a new timber guardrail.
Starting Monday, the county will close East 850 Road just east of Lone Star Lake so bridge work can begin. Construction of the new road east of the bridge is the first part of the effort. The idea is to keep traffic away from the old bridge.
Restoration of the bridge and construction of the new road are just part of the project.
A small parking and viewing area for as many as four vehicles and a marker explaining the bridge's history also will be placed nearby.
"It will be a chance for people to see how bridges and culverts were constructed in the early 20th century," Browning said.
The project is to be completed in May, but the new road may reopen before then.
King's Construction of Oskaloosa, is contractor for the $173,910 restoration. The Kansas Department of Transportation is reimbursing the county for 80 percent of the construction costs with federal transportation enhancement funds; the county's share is $34,782.
Copyright 2018 The Lawrence Journal-World. All rights reserved. This material may not be published, broadcast, rewritten or redistributed. We strive to uphold our values for every story published.