FedEx announced plans Tuesday to buy 10 massive European-made Airbus A380 airplanes, casting another blow to Boeing Co.'s effort to build and market a larger 747.
FedEx will be the launch customer for the freight version of Airbus' new plane, with deliveries to begin in 2008, said Frederick Smith, FedEx chairman and CEO.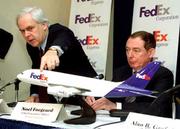 Smith and Airbus Chairman Noel Forgeard announced the deal, but did not disclose its terms.
At list prices the pact would be worth $2.3 billion, although discounts on launch orders are believed to run as high as 30 percent.
"We think we paid too much," Smith said. "Airbus thinks they gave the airplane away."
Smith said the giant triple-deck freight version of the Airbus plane would enable the company to eliminate refueling stops on international routes, allowing the plane to depart later yet still complete routes on time. The plane will be able to carry 300,000 pounds of cargo about 6,000 miles.
Forecasts of growing business indicated the need for the larger planes, Smith said, although the backbone of the FedEx fleet continues to be the Boeing MD-11.
Seattle-based Boeing is Kansas' largest private-sector employer, with more than 16,000 employees in Wichita.
"We considered a variety of options, including the Boeing 747X Stretch, but none met our anticipated demands in the international air cargo market as efficiently as the A380-800F," Smith said.
David Bronczek, president of FedEx Express, said the Airbus freighter's three levels fit FedEx's standard 8-foot containers, while Boeing's 747X would be better suited for 10-foot containers on two decks. FedEx decided against switching to an expandable container.
The A380 officially was launched in December at Airbus' headquarters in Toulouse, France. The passenger version carries 555 people on two decks, surpassing the current largest airliner, Boeing's 747.
At launch Airbus had received 50 firm orders and 42 options for the superjumbo jet.
Copyright 2018 The Lawrence Journal-World. All rights reserved. This material may not be published, broadcast, rewritten or redistributed. We strive to uphold our values for every story published.