Salt Lake City — Greg Ostertag withdrew his request to be traded from the Utah Jazz on Monday and disputed his coach's assertion that he left the team and skipped practice.
The former Kansas University center met with coach Jerry Sloan after a shootaround, but Ostertag remained suspended for the game Monday night against Houston.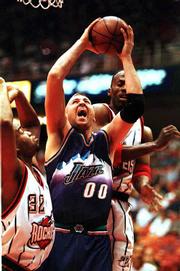 "We talked this morning and it's over," Ostertag said. "It's water off a duck's back. Bygones are bygones."
Ostertag had asked to be traded after arguing with Sloan during the Jazz's 111-103 victory over the Los Angeles Lakers on Saturday night.
Sloan then said the center was "AWOL" for Sunday's practice. He suspended him for the next game.
Ostertag, who has been criticized by fans since signing a six-year, $39-million contract extension in 1997, said he didn't miss practice. He said he was in the Delta Center getting treatment while the team worked out.
Sloan said he apologized for misinterpreting something Ostertag had said to an assistant coach during the game. However, the coach did not apologize for removing Ostertag for poor play.
"I apologized to him for maybe assuming too much. I wasn't wrong about the things that built up to that, but I was wrong about yelling at a player," Sloan said.
Sloan and Ostertag have clashed often since the Jazz drafted the 7-footer as a first-round draft pick out of KU in 1995.
Like most of their previous courtside disagreements, this one started when Sloan pulled Ostertag. With about 50 seconds left, Shaquille O'Neal made an uncontested dunk on Ostertag, who then missed a quick shot at the other end.
That led to a Laker layup by Rick Fox, cutting the lead to 108-101 with 29 seconds left. Sloan then called time out to pull Ostertag.
"We thought Greg probably should have passed the ball out he's not a great free-throw shooter and then we would run some clock," Sloan said. "The game's not over at that point."
After Fox's basket, the Jazz called a timeout. As his players came off the floor, Sloan said one of his assistants told Ostertag "to pass the ball." Ostertag said something back to him, and Sloan intervened.
"We talked this morning and it's over. It's water off a duck's back. Bygones are bygones."
Utah center Greg Ostertag about meeting with coach Jerry Sloan
"I guess there was a misunderstanding," Sloan said. "What I saw happen and what he said he said are two different things."
Ostertag tore himself away from the Jazz huddle, knocking into assistant coach Kenny Natt in the process. He started up the tunnel toward the locker room, but suddenly stopped. It looked like he was coming back to confront Sloan when Olden Polynice and others intercepted him.
Ostertag spent the final seconds of the game standing at the far end of the bench. Sloan was seated in his normal spot. A wall of Jazz players including Polynice, former KU teammate Jacque Vaughn and Quincy Lewis stood between them, preventing eye contact or any more verbal exchanges.
Ostertag finished the game with three points, two rebounds and one blocked shot in 14 minutes. The Jazz have a team rule that, after the game, a player must ride an exercise bike if he does not play 20 minutes.
Ostertag did not ride the bike, however, forcing Sloan into the unwanted role of policeman.
"He was upset," Sloan said. "(But) now I'm faced with the responsibility of enforcing the rules. I still have to have some kind of control over this thing."
Sloan was quite miffed with the 7-footer's trade demands.
"Maybe he would like to be traded. But we aren't going to give players away. We can't afford to do that," the coach said.
Perhaps Ostertag was reinforcing his trade demand by skipping practice?
"Maybe that's what he's trying to do," Sloan said. "But it takes two (teams) to make a trade."
According to Sloan, his biggest disappointment with the situation involves Ostertag's decision to miss practice and not discuss the matter Sunday.
"I have no problem with Greg, other than what I see on the court sometimes," Sloan said.
"We've had frustrations with each other before," Sloan said. "We all get frustrated from time-to-time. But you've got to have some communication, especially a day later, when there are cooler heads."
Copyright 2017 The Lawrence Journal-World. All rights reserved. This material may not be published, broadcast, rewritten or redistributed. We strive to uphold our values for every story published.