Houston — President-elect Bush celebrated Martin Luther King Jr. for seeing "the image of God in everyone" and, in a Monday commemoration of the civil rights hero, promised wary black Americans: "My job will be to listen not only to the successful, but also to the suffering."
The former Republican governor of Texas, who won a dismal 5 percent of black votes in his home state and one in nine nationwide, took a brief break from preparations for his inaugural activities to reach out to minorities on the King holiday.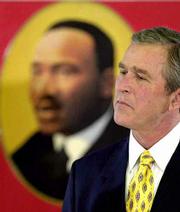 "I will remember the promise etched in this day," Bush said at the predominantly black and Hispanic Kelso Elementary School, which was closed for the federal holiday. "Dr. King's dream placed demands on each of us."
Bush cast education reform as his own civil rights mission and said equal opportunity eludes students in bad schools.
"The dream of equality is empty without excellent schools schools that stress reading and discipline and character and decency. That goal will take presidential leadership ...," Bush said. "It is a goal we will work endlessly to achieve."
Bush has pledged that his first priority after being sworn in Saturday will be congressional passage of his voucher plan to take government money away from consistently failing public schools and give the funds to parents to send their children elsewhere, including private or religious schools.
On Monday, Bush saluted King, who was assassinated in 1968 when Bush was a senior at Yale University, for a faith-based "passion for justice" that recognized "the image of God in everyone."
At Bush's side in the stuffy elementary school gymnasium, whose 100 invited guests barely outnumbered the reporters, was Education Secretary-designate Rod Paige, the black chief of Houston's school district.
Paige told students, parents and teachers that Bush's appearance at Kelso Elementary "signals he understands the importance of this day to you and to me ... that he understands the character that Martin Luther King represented."
To get there, Bush's limousine rocked through the rutted streets of a neighborhood of rundown houses, metal fences and littered ditches.
During his campaign, Bush turned off many black voters by speaking at Bob Jones University, which until recently banned interracial dating; refusing to condemn the flying of the Confederate battle flag over the South Carolina Capitol; and opposing a hate crime measure in Texas.
Exit polls Nov. 7 showed black voters chose Democrat Al Gore over Bush by a 9-to-1 margin, the lowest mark for a Republican presidential candidate since Barry Goldwater in 1964.
By better than a 2-to-1 margin, most blacks believe they will lose influence under Bush, a Pew Research Center poll this month showed.
And a CNN-USA Today poll last month showed less than a quarter of blacks thought Bush would work hard to address their interests.
Copyright 2018 The Associated Press. All rights reserved. This material may not be published, broadcast, rewritten or redistributed. We strive to uphold our values for every story published.