Santa Monica, Calif. — Former President Reagan underwent a 65-minute surgery Saturday morning to have a plate and screws inserted into his right hip to repair a fracture suffered during a fall.
Reagan, 89, who has Alzheimer's disease, was placed under general anesthesia during the procedure and likely will remain hospitalized for seven to 10 days, said lead orthopedic surgeon Dr. Kevin Ehrhart during a Saturday afternoon news conference.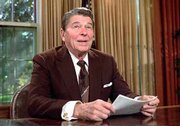 Nancy Reagan has been with her husband since he was hospitalized Friday afternoon at St. John's Health Center after falling at the couple's Bel-Air home, said Joanne Drake, Reagan's chief of staff.
"Mrs. Reagan was with him through the night, has remained strong throughout and is with him now in his room," Drake said.
Ehrhart said surgery, which originally was expected to last three hours, started at 8:30 a.m. and was completed at 9:35 a.m.
"He remained in stable condition throughout the procedure and he remains in stable condition presently in his hospital room," the doctor said.
Ehrhart said the former president would be able to complete most of his recovery and rehabilitation at home. The doctor said Reagan would need to use a walker when he regains mobility.
"The condition of the president's tissue, specifically the muscle and bone, was that of a much younger man, which obviously helps substantially with his recovery," the doctor said.
Reagan's surgery involved using a series of pins, screws and a plate to put the President's hip back together, Ehrhart said.
Drake said that Reagan's children were notified of his status, including eldest daughter Maureen, who has been undergoing cancer treatments for melanoma at the same hospital since Dec. 11.
Shortly before leaving the White House for Camp David late Saturday, President Clinton said: "I've sent my concern and Hillary's to President Reagan and Mrs. Reagan," Clinton said. "I wish him well in his surgery. Our prayers are with him."
orthoinfo.aaos.org
Mrs. Reagan was called before the surgery by President-elect George W. Bush. She missed one from former President Gerald R. Ford, who called during the surgery. The Rev. Billy Graham sent a faxed message wishing Reagan well.
Ronald Reagan, who at 69 was the oldest man ever elected president of the United States, maintained a thumbs-up demeanor for the public during several bouts with illness during and after his presidency.
The most traumatic one was on March 30, 1981, just 10 weeks into his presidency, when a would-be assassin's bullet hit Reagan in the upper chest.
In July 1985, Reagan underwent surgery to remove a suspicious polyp from his colon. Two feet of the intestine was removed, and tests days later revealed that the growth was cancerous but had not spread far.
Copyright 2018 The Associated Press. All rights reserved. This material may not be published, broadcast, rewritten or redistributed. We strive to uphold our values for every story published.