Lawrence High School teacher Tom Birt relished a chance Wednesday to thoroughly examine his student's independent-study project.
And, before awarding a grade, he issued a single proviso to LHS junior Cailinn Drouin.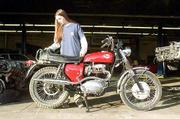 "If you want an A," Birt teased, "you have to let me ride it."
Drouin, 16, nodded consent and continued a presentation on how she devoted herself to transforming her dad's motorcycle restoration dream into a shiny red-and-black 1968 BSA Firebird Scrambler fit for a queen of the road.
She'll earn one semester of high school credit for completing the restoration project, but Drouin received much more than a letter grade on a piece of paper.
After all, who ever rode a report card down the highway?
Drouin, who brought the motorcycle to the LHS auto shop for the presentation to Birt, said her friends were excited about the project as well.
"They think it's great because nobody else has done it."
The British bike was a mechanical challenge, given that parts were scarce and bolts were sized to odd Whitworth dimensions. Her dad, David Lindsay, was able to lend a hand. He had restored a Harley-Davidson but never quite made time for the old, battered BSA. It had sat in the garage for a decade.
"When I started out," Drouin said, "I knew nothing about motorcycles. We completely tore it down."
Her most valuable lesson about restoration: "Label all parts."
She expects to go to college after graduation in 2002, but she says her mechanical dexterity will come in handy throughout life.
"I did it because I thought knowing how to work on any vehicle is a really valuable skill," Drouin said.
The project cost $2,500, but the bike is now worth nearly twice that amount.
Birt said Cailinn deserved an A-plus for her effort.
"It's a good example of what independent study can do for a high school student," he said. "They can pursue a passion unlike they could in a classroom."
Drouin's mom, Mary, said it was time to replace the Indian motorcycle T-shirt Cailinn wore to the presentation for Birt.
"There's one other thing," Cailinn said. "I'll need a driver's license."
Copyright 2018 The Lawrence Journal-World. All rights reserved. This material may not be published, broadcast, rewritten or redistributed. We strive to uphold our values for every story published.