Topeka — The Kansas State Board of Education started its new term Tuesday by signaling the demise of anti-evolution science standards.
Members agreed to include the controversial theory in statewide tests that Kansas students start taking in March.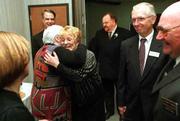 The board's new direction culminated 18 months of vigorous debate about evolution and what students should be taught.
"I wish all education issues attracted this kind of attention," said John Poggio, a KU professor hired to develop the statewide science tests.
In August 1999, Kansas was thrust on the international stage after the board adopted science standards that de-emphasized evolution. The standards are used as the foundation to develop statewide science tests.
The board's decision was ridiculed by many scientists while defended by many creationists.
Pro-evolutionists, many from Lawrence and the Kansas University community, stirred sentiment against the board. In last year's election, power shifted from the conservatives and a pro-evolution majority came to the education board.
Leonard Krishtalka, director of KU's Natural History Museum and Biodiversity Research Center, was one of those leading the drumbeat in favor of evolution.
"Bravo," Krishtalka said when told of the board developments.
"Kansas will now return to educational excellence by adopting nationally accepted science standards," he said.
"All of Lawrence and people across the state deserve credit for keeping this high on the radar screen during the elections," Krishtalka said.
Evolution, a theory developed by Charles Darwin and others, holds that the Earth is billions of years old and that all life, including humans, evolved from simple forms through natural selection.Some religious fundamentalists and others object to the teaching of evolution, saying it contradicts the biblical account of creation.
Two of three anti-evolution candidates were defeated in last year's election, which resulted in the majority that wants to put evolution back into the standards.
But while Krishtalka was happy for the change, Tom Willis, president of the Creation Science Association of Mid-America, a Missouri-based group that helped put the anti-evolution standards together, was resigned that evolution will be taught in Kansas schools.
"The Bible teaches that we will turn aside from the truth," Willis said.
"It doesn't surprise me at all," he said. "They (those who favor teaching evolution) can't stand to have an alternative position presented."
Krishtalka said scientists are tolerant of religious beliefs but that religion shouldn't be taught as science.
Though no vote was taken Tuesday by the board to put evolution into the standards, the Education Department directed Poggio to have tests that cover the theory ready by February.
Poggio, director of KU's Center for Educational Testing and Evaluation, said fourth-, seventh- and 10th-graders will take the tests in March and April.
Copyright 2018 The Lawrence Journal-World. All rights reserved. This material may not be published, broadcast, rewritten or redistributed. We strive to uphold our values for every story published.