Home to Homer Simpson, Malcolm's dad, and Stacy Keach on "Titus," Fox has become the network of choice for immature fathers. Now Donal Logue joins the pack on the new sitcom, "Grounded for Life" (7:30 p.m., Fox). He's Sean Finnerty, a 32-year-old father who hasn't grown up a whole lot since he married his pregnant girlfriend, Claudia (Megyn Price) right out of high school. Now Sean finds himself with a 14-year-old daughter, Lily (Lynsey Bartilson), and two young boys, Jimmy (Griffen Frazen) and Henry (Jake Burbage). But in his mind, Sean is still a cool teen-ager, something Lily finds a tad revolting.
The best thing about "Grounded" is the return of Megyn Price to primetime. It's quite a stretch to go from playing smart TV news producer on "Lateline" to a working-class Irish Catholic wife, but Price seems up to the task. What's not quite understandable is why Claudia stays married to a lug like Sean.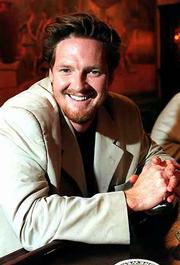 l The theme of parents as adolescents continues on "Once and Again" (9 p.m., ABC). This drama moves to Wednesdays, starting tonight. "Gideon's Crossing" relocates to Mondays, beginning Jan. 15. In tonight's episode, Lily thinks she may be pregnant. As their children go off to an innocent high-school pep rally, Lily and Rick confront the news like nervous teen-agers. Rick quickly learns that there's nothing he can do or say to make Lily feel better about the crisis. Emotional turmoil brings to surface an icy side of Lily that'll make you wince.
The newest participants in stunt reality programming are cast away on "Temptation Island" (8 p.m., Fox). Four couples on the verge of marriage have consented to go to Belize to test the strength of their commitments. You have to figure that anybody game for this adventure is not necessarily in the mood to settle down.
Tonight's other highlights
Dean Cain hosts "Ripley's Believe It or Not" as it enters its second season (7 p.m., TBS). Tonight: a high-school football star without legs.
Cy Carter stars in "Anatomy of a Hate Crime" (7 p.m., MTV), an original TV movie based on the murder of Matthew Shepard.
In the throes of a bitter divorce, a father (David James Elliott) takes his daughter (Alicia Morton) on the kind of camping adventures he shared with his recently deceased father (Robert Logglia) in the 2000 TV drama, "Dodson's Journey" (8 p.m., CBS).
Tensions mount before a bipartisan breakfast on "The West Wing" (8 p.m., NBC).
They're young, they're beautiful. I can't stand the sight of them. "Jack & Jill" (8 p.m., WB) returns for 13 weeks of original episodes while "Felicity" goes on hiatus.
Profiles of Louis Armstrong, Fletcher Henderson, Bix Beiderbecke and Benny Goodman on "Our Language" on "Jazz" (8 p.m., PBS). Part three of 10.
A smooth real-estate wheeler-dealer tries to finesse his murder defense on "Law & Order" (9 p.m., NBC).
The changing face of the American kitchen and cuisine on "Century of Food Part I" (9 p.m., Food Network).
Series notes
Bette's attempts at helping Connie prove unsuccessful on "Bette" (7 p.m., CBS) ... Ed's parents disapprove of his bowling alley lifestyle on "ED" (7 p.m., NBC) ... Red sees things in a different light on "That '70s Show" (7 p.m., Fox) ... Regis Philbin hosts "Who Wants to Be a Millionaire" (7 p.m., ABC) ... Olga, Parker and Owsley survive a radiation mishap that wipes out life on earth on "Seven Days" (7 p.m., UPN) ... Dawson tells Pacey that he's fallen for Gretchen on "Dawson's Creek" (7 p.m., WB).
Jim wants to make improvements on the show on "Welcome to New York" (7:30 p.m., CBS).
Mimi pulls stings to shut down the Warsaw Bar on "The Drew Carey Show" (8 p.m., ABC).
Copyright 2018 The Lawrence Journal-World. All rights reserved. This material may not be published, broadcast, rewritten or redistributed. We strive to uphold our values for every story published.