Step aside, Hardee's. Here comes McDonald's.
Dobski & Associates, a Lawrence-based franchiser of area McDonald's restaurants, bought a vacant Hardee's at 1313 W. Sixth St. for renovation into offices.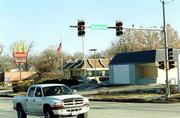 The transaction, closed last week, will give new life to a fast-food building where Hardee's couldn't cook up enough sales or retain enough employees. The place closed in early November, and has been boarded up since.
"It works for us," said Marilyn Dobski, co-owner with her husband, Tom, of Dobski & Associates.
"We'll have more space for our staff. We can use the additional parking spaces for our employees and our staff."
The building covers about 3,600 square feet, and is adjacent to a McDonald's at 1309 W. Sixth. Employees at the restaurant will be able to park next door, freeing more spaces for diners.
The office building will replace Dobski & Associates' current downtown offices at 911 Mass., which the company has leased for the past five years. The offices are below Chipotle Mexican Grill, which previously had been home to a Dobski-owned McDonald's.
No specific timeline has been set for moving into the new offices, Marilyn Dobski said. The company is evaluating design options.
Dobski & Associates owns and operates five McDonald's restaurants in Lawrence, including one that opened last month at 3241 Iowa. The company also has eight other McDonald's franchises in Topeka, DeSoto, Leavenworth, Bonner Springs and Atchison.
Since closing its Sixth Street location, Hardee's now has one restaurant in Lawrence, at 2030 W. 23rd St.
A new rental-car operation is rolling into a former beauty salon a few blocks west of McDonald's.Enterprise Rent-A-Car plans to open its second Lawrence agency at 1717 W. Sixth St., just east of Roach True Value Hardware. The lot is along U.S. Highway 40, just off the Kansas Turnpike access road and within four miles of Lawrence Municipal Airport.Renovation of an 800-square-foot building on the site is expected to begin by month's end, said Bill Black, whose B&B; Construction Co. in Overland Park is handling the job.Enterprise shares a building with Jim Clark Motors at 2233 W. 29th Terrace, in the Lawrence Auto Plaza. Enterprise currently has nine full-time employees, four part-timers and room for up to 20 vehicles a day.
Copyright 2018 The Lawrence Journal-World. All rights reserved. This material may not be published, broadcast, rewritten or redistributed. We strive to uphold our values for every story published.