Las Vegas — The white jumpsuit with its gaudy jewels is unzipped to reveal just the right amount of bare chest. The hairstyle is slick, black and out of date. The sideburns unmistakable.
Perfect. It's showtime for Ron DeCar.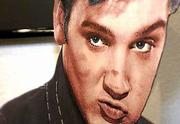 "Do you both agree to adopt each other's hound dogs, not to wear your blue suede shoes in the rain, to always be each other's teddy bear and to never have a blue Christmas without one another?" he asks at the Viva Las Vegas Wedding Chapel.
A few songs later, Jason Sealock and Rashell McCann are married, by the King of Rock 'n' Roll no less.
The city of neon glitz and extravagance refuses to give up on the power of Elvis Presley, who would have been 66 years old Monday. He's been dead almost 24 years, but in Vegas, Elvis has yet to leave the building.
Elvis impersonators still pack 'em in that distinctive voice can be heard resonating from slot machines and even Flying Elvi in the sky aren't uncommon.
Then there are the Elvis ministers, who are so wonderfully unusual that many tourists can't seem to resist them.
"I don't know many people that can say they were married by Elvis," said Sealock, 26, of Seattle, after he and McCann tied the knot.
DeCar makes his living as a ministerial Elvis. He also owns the hotel behind the chapel and takes pride in its pink and black Elvis and Priscilla room. Anyone interested in sleeping in a bed that is built into the front half of an actual 1954 pink Cadillac would love it.
Sleeping like the King is one thing, but having him perform your marriage ceremony?
"Most of the people that come to Las Vegas envision themselves being married by the King," declares DeCar, noting that he's 42, the same age Elvis was when he died.
Maybe, but Callie Fortin looked a bit puzzled after watching her friends' marriage ceremony.
"It's very strange," said Fortin, 24, of Denver.
Farther down Las Vegas Boulevard, former prison guard Tim Welch is preparing for yet another show at the New Frontier hotel-casino, where he belts out Elvis hits to adoring fans. They line up for autographs and pictures and sometimes women even toss their undergarments on stage, Welch said.
A shuttle takes tourists on the Strip to and from the nearby Elvis-A-Rama Museum. It's filled with records, cars, letters, pictures and souvenirs such as a replica of Elvis' driver's license and Elvis confetti.
The Flying Elvi are in demand across the country for shopping mall openings and ball parks. The group of 10 Elvis impersonators, created after the movie "Honeymoon in Vegas" originated the idea, wear wigs and jumpsuits as they parachute out of a plane, then lip sync the King's songs on the ground.
Why is that so popular? "I have no idea," said the group's manager, Melissa Feeney.
Back at the chapel, DeCar steps outside to a familiar refrain.
"It's Elvis!" a passer-by yells.
Indeed it is, and in Las Vegas, he lives.
---
MORE: www.elvis-presley.com
www.vivalasvegasweddings.com
www.elvisarama.com
Copyright 2018 The Associated Press. All rights reserved. This material may not be published, broadcast, rewritten or redistributed. We strive to uphold our values for every story published.