A stylish new year
In Style magazine's "Hot List" is a shopping list of the "must-haves" for 2001.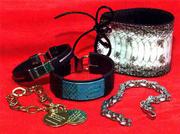 In the fashion category, the magazine's editors label studded bags, shoes, skirts and trousers as hot items. Also likely to cause a stir are Daniel Swarovski crystal mesh-covered leather bracelets and other leather bracelets like those shown above; two-tone Spectator shoes; espadrilles; big belts; and the sterling-silver Bootlette chain.
Dinair's Airbrush Wand that sprays foundation onto skin in the form of tiny dots is "hot" in the world of makeup. So are super-thick eyelashes, asymmetrical haircuts and smoky, incense-like fragrances.
According to the magazine, Chi-Glow exercise classes that feature glow sticks will be the next fitness craze, and Nike Shox shoes, which were used by the U.S. men's basketball team at the Sydney Olympics, will bring comfort to the fitness-crazed.
---
The name game
If 3M and Goodyear merged, what would the new company be called? MMMGood? suggests Safeco Securities Inc., whose holiday greetings to clients contained whimsical names for imaginary mergers.
Others: If PolyGram Records, Warner Bros. and Keebler Crackers joined forces, the companies could call themselves "Polly-Warner-Cracker." And for a Honeywell, Imasco and Home Oil union, Safeco suggested "Honey, I'm Home."
---
Attention, shoppers
MORE: www.luckymag.com
There's a new magazine from Conde Nast to feed your habit. Lucky which officially debuted in November, but won't begin monthly publication until February is all about shopping: what to buy, where to buy it and how to use it.
From puppies to kitchen cabinets to engagement rings, the self-indulgent 'zine/catalog lists what's hot and where it's available, and then tells you why you need it: that spontaneous weekend getaway to the beach, the dinner party with your wine-connoisseur boss or just to look cool during your hip Pilates exercise class.
Lucky is on sale at newsstands for $2.95, but you can check it out online at www.luckymag.com.
---
Just like the movies
Hollywood screenwriter Meredith Baer has taken her craft of manufacturing dreams from 20th Century Fox, the movie studio, to Century 21, the real estate people. From staging scenes, she's gone to "house staging" furnishing empty multimillion-dollar homes to create fantasies that can sell homes.
---
Fresh ideas on fruit
MORE: www.fruits.com
Wondering what to do with all the fruit you received in holiday fruit baskets? Del Monte Fresh Produce Inc. has come up with a list of ideas, including recipes for pineapples, oranges, apples, pears and mangos.
The suggestions can be found on the Web at www.fruits.com.
---
Hail to your chief
Is there a president in your family tree? There's obviously one in George W. Bush's, but Family Tree Magazine says 100 million Americans also have some sort of presidential roots. Almost anyone with New England ancestry is probably connected to dozens of presidents. Those with Quaker or Southern roots also have a good chance. But no one's tree includes James Buchanan, the only bachelor president.
Copyright 2018 The Lawrence Journal-World. All rights reserved. This material may not be published, broadcast, rewritten or redistributed. We strive to uphold our values for every story published.