Norman, Okla. Megan Taylor's resiliency salvaged a victory for Iowa State.
Taylor, who sprained her ankle earlier in the week, delivered a game-winning jumper as time expired to lead No. 7 Iowa State to an 81-79 victory over No. 19 Oklahoma on Saturday.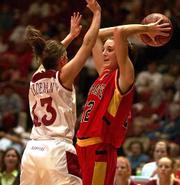 "It couldn't have happened to a better kid," Iowa State coach Bill Fennelly said. "Thursday night, I don't think anyone thought she was going to play."
Taylor, who hit a game-winner two years ago against Texas in a regular season conference game, said the shot against Oklahoma was special.
"This one feels pretty good, because of the way they came back," she said. "I think this would have been worse if we lost because we had the big lead."
Taylor's shot in the lane rendered meaningless a late 20-0 run by Oklahoma and gave the Cyclones (11-1, 2-0) their second straight road victory.
The Cyclones were ahead 77-59 with 6:13 left in the game when OU (9-4, 1-1) changed the complexion of the game by scoring 20 straight points.
Sunny Hardeman made four of her career-high six three-pointers in the second half. Her three-pointer with 1:32 left in the game put OU up for the first time in the second half, 79-77.
"My teammates were able to find me for the three-pointers and when I am wide open, I will definitely take the shot," Hardeman said.
Iowa State's Lindsey Wilson finally stopped her team's drought, tying the game at 79 with two free throws, before Taylor's game-winning basket.
"Obviously this is what people have talked about Big 12 basketball being all about," Fennelly said. "I saw two teams that were very good and played their guts out. We just had two more points at the end of the game."
The win may prove more important as the Big 12 Conference picture plays out. Both teams were expected to challenge for the title and are not scheduled to meet again during the regular season.
"I don't think any team will come through unscathed," Oklahoma coach Sherri Coale said. "It just means we'll have to steal one on the road."
No. 3 Notre Dame 67, No. 9 Rutgers 46
South Bend, Ind. Ruth Riley had 22 points as Notre Dame became the fourth ranked team to beat Rutgers. Notre Dame (14-0, 3-0 Big East) used a 15-0 run to open a 20-4 lead and the Scarlet Knights (8-4, 1-1) never got closer than 12 points. Niele Ivey had 15 points and seven assists for the Irish, Kelley Siemon had 11 points and nine rebounds, and Alicia Ratay scored 11. Tammy Sutton-Brown scored 19 points for Rutgers.
Missouri 68,
No. 12 Texas 52
Columbia, Mo. Amanda Lassiter and Evan Unrau each recorded a double-double and led Missouri to a win over Texas. Lassiter had 22 points and 10 rebounds as Missouri rallied from a 32-24 halftime deficit by limiting Texas to 27 percent shooting after the break. The Longhorns (13-3, 1-1 Big 12 Conference), did not score in the final three minutes. Tai Dillard led Texas with 24 points.
No. 13 Texas Tech 67, Oklahoma St. 55
Stillwater, Okla. Katrisa O'Neal scored a game-high 23 points as the Red Raiders beat Oklahoma State in a Big 12 Conference game.
The Red Raiders shot 49 percent overall and 76.2 percent in the second half, while the Cowgirls shot just 32.7 percent for the game. Texas Tech (11-2, 2-0) charged to an 11-2 lead early in first half. Oklahoma State (9-5, 0-2) tied the game at 19 and took its first lead on a steal and layup by Machell Roberts, who finished with 13 points.
Tech scored the first seven points of the second half, tying the 29 at 15:39. The Raiders took the lead for good, 45-44, with 9:15 remaining and closed out the victory with a 22-11 run.
No. 15 SW Missouri St. 86, Illinois St. 51
Springfield, Mo. Jackie Stiles had 39 points as Southwest Missouri (9-3, 3-1 Missouri Valley Conference) broke the game open with a 21-2 run at the start of the second half. Erika Rante added 11 points and 10 rebounds for Southwest Missouri. Nadia Peruch led Illinois State (3-10, 1-3) with 14 points.
Arizona 68,
No. 21 Stanford 65
Stanford, Calif. Elizabeth Pickney scored 18 points as Arizona won its second straight at Maples Pavilion and its fifth straight overall. Reshea Bristol added 12 points for the Wildcats (12-2, 2-0 Pac-10), who defeated a nationally ranked team for the first time this season. Arizona's losses have come against ranked teams. Nicole Powell had 15 points and 11 rebounds and Cori Enghusen added 12 points for Stanford (7-5, 1-1), which lost its first home game of the season. Candice Allen added 11 points for Arizona.
George Washington 88, No. 22 Xavier 74
Washington Lindsey Davidson made 11-of-12 shots and scored a career-high 26 points as George Washington ended a four-game losing streak against ranked opponents.
Copyright 2018 The Associated Press. All rights reserved. This material may not be published, broadcast, rewritten or redistributed. We strive to uphold our values for every story published.