Chapel Hill, N.C. Battling No. 4 Wake Forest wasn't too difficult for Brendan Haywood following his trip to the barber.
Four days after opening the Atlantic Coast Conference season scoreless, Haywood had 24 points, including the game-winning layup with 3.3 seconds left, as No. 13 North Carolina (11-2, 2-0 ACC) handed Wake Forest its first loss, 70-69 Saturday night.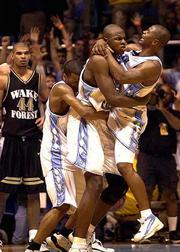 "A couple of guys at the barber shop gave me a hard time. You know how it is at the barber shop," Haywood said. "They were laughing at me and calling me 'doughnut.' But I knew what I could do. I wasn't worried about it."
Haywood's point total matched his season high, and he added 10 rebounds and three blocks in a physical game that ended Wake Forest's 17-game winning streak.
The first loss of the season for the Demon Deacons (12-1, 1-1) came in a logical place. Wake Forest fell to 1-15 at Smith Center.
No. 2 Stanford 85,
No. 16 Arizona 76
Tucson, Ariz. Stanford finally won one on Lute Olson Court, and Arizona's coach wasn't there to watch a painful season get worse. The Cardinal claimed only their third victory at McKale Center in 27 tries. Stanford (13-0, 2-0 Pac-10) didn't get a point from its reserves, but that didn't matter. Jarron Collins scored 22, Ryan Mendez a season-high 20, Jason Collins 19 and Casey Jacobsen 16 as the Cardinal ended Arizona's string of 31 consecutive home-court Pac-10 victories.
Arizona (8-5, 1-1), ranked No. 1 in the preseason, is struggling with the loss of Bobbi Olson, the coach's wife of 47 years who died of cancer on Monday. Lute Olson has missed three games and his return date is not known. A memorial service for Bobbi Olson is planned for Monday at McKale Center.
No. 6 Tennessee 96, Auburn 88, 2 OTs
Auburn, Ala. Isiah Victor scored 12 of his career-high 34 points in the two overtimes for Tennessee in the SEC opener. Vincent Yarbrough finished with 23 points, eight rebounds and seven assists for the Vols (14-1). Jamison Brewer led the Tigers (10-4) with 21 points.
No. 8 Virginia 88,
North Carolina State 81
Charlottesville, Va. Travis Watson scored four straight points to break a tie in the final minutes for Virginia (11-1, 1-1). The Wolfpack (8-4, 0-1), who lost four players to fouls , struggled against Virginia's full-court trap, committing 12 turnovers in the second half. Roger Mason led the Cavaliers with 26 points.
No. 9 Illinois 83,
Ohio St. 68
Champaign, Ill. Frank Williams scored 21 points to lead Illinois (12-3, 2-0 Big Ten) over the Buckeyes (10-4, 1-1). Illinois also got 13 points from forward Brian Cook and 12 from Cory Bradford. Johnson and Brian Brown each scored 15 points to lead Ohio State.
No. 10 Connecticut 82, St. John's 80, OT
Storrs, Conn. Souleymane Wane hit two late free throws to lift Connecticut (12-2, 1-1 Big East). UConn freshman Caron Butler hit his only three-pointer as time ran out in regulation. St. John's (7-6, 1-1) had its three-game winning streak snapped.
No. 19 Georgetown 78, No. 11 Seton Hall 66
Washington Georgetown earned its first regular season win over a ranked team in five years as the Hoyas (13-0, 2-0 Big East) continued their best start since 1989-90. Seton Hall (10-3, 1-1) had won four straight.
Minnesota 54,
No. 12 Wisconsin 49
Minneapolis Shane Schilling scored 12 points and hit three three-pointers as Minnesota dealt Wisconsin its first loss in nine games under interim coach Brad Soderberg.
No. 14 Syracuse 71, Pittsburgh 66
Pittsburgh Syracuse held Pittsburgh scoreless for nearly eight minutes down the stretch and the Orangemen (13-1, 2-0 Big East) rallied from a 15-point deficit behind Preston Shumpert's 20 points .
No. 17 Maryland 93, Georgia Tech 80
College Park, Md. Juan Dixon scored a season-high 28 points as Maryland won its 10th straight. Terence Morris had his first double-double of the season with 19 points and 13 rebounds for the Terrapins (11-3, 2-0 ACC). Tony Akins scored 20 points for Tech (8-5, 0-2).
No. 18 Alabama 82, LSU 73
Baton Rouge, La. Rod Grizzard scored 19 of his game-high 23 points in the second half for Alabama in an SEC opener. After the game, Grizzard and a teammate went over to the LSU student section and exchanged taunts. LSU's Brian Beshara confronted the Alabama players and coaches from both teams exchanged words. Alabama assistant coach Tom Kelsey tried to get to LSU head coach John Brady, but was restrained by a policeman.
No. 20 USC 87, Washington 61
Los Angeles David Bluthenthal tied a career high with five three-pointers and finished with 25 points as Southern California won its 10th straight at the Sports Arena.
No. 21 Notre Dame 87, Rutgers 80
South Bend, Ind. Troy Murphy scored a career-high 37 points, including eight in the final 4:12, for Notre Dame (9-3, 1-1 in the Big East). Notre Dame's 87 points were the most allowed by the Scarlet Knights this season, and the 60.8 percent shooting by the Irish was also a season high against Rutgers (8-5, 0-2). Ryan Humphrey scored 17 points, David Graves added 16 and Martin Ingelsby had a career-high 13 assists for the Irish. Jeff Greer led Rutgers with 26 points.
No. 22 Mississippi 81, Vanderbilt 68
Nashville, Tenn. Justin Reed scored 19 points as Mississippi improved to 13-1 for the first time in 75 years. Mississippi got 14 points apiece from Jason Harrison and Jason Flanigan in the SEC opener. Russell Lakey scored 18 points for Vanderbilt (10-3).
No. 25 Cincinnati 76, Charlotte 66
Cincinnati Kenny Satterfield and Steve Logan scored 18 points apiece for Cincinnati in a rough game.
Copyright 2018 The Associated Press. All rights reserved. This material may not be published, broadcast, rewritten or redistributed. We strive to uphold our values for every story published.