Bangkok, Thailand — This nation's voters banished their conservative, reform-minded prime minister Saturday and elected a new government headed by a U.S.-educated telecommunications billionaire who has promised to spend lavishly to revive the sluggish economy.
Although votes still were being tallied early today, Thaksin Shinawatra's Thais Love Thais Party appeared easily to have garnered enough support to make the populist former policeman Thailand's 31st prime minister and to head the kingdom on a course many economists have warned could be ruinous.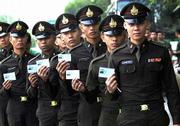 All 500 seats in the lower house of Parliament were up for grabs in the country's first election since the passage in 1997 of a "good governance" constitution designed to stamp out corruption and break the power of political oligarchies. As of early today, Thais Love Thais had won about 200 of them, according to exit polls, putting Thaksin in a position to form a coalition government.
"People desire political change, and we have to respect the people's decision," Prime Minister Chuan Leepkai said in conceding that his Democrat Party had lost. His government is the first in Thailand in 68 years to fulfill its full parliamentary term.
But Thaksin's premiership could be brief. He was indicted Dec. 26 by the Counter Corruption Commission for failing to declare all his assets as required by law. If the 15-judge Constitutional Court rejects his appeal a ruling is not expected for several months Thaksin will be forced to resign and be barred from holding political office for five years.
Uncertainty also surrounds the election on another front: A spokesman for the Electoral Commission said it had been flooded with complaints of voter fraud, and the five-member body seems certain to overturn some victories and order new elections in the affected constituencies. Official election results, however, are not expected to be announced until next month.
The election was closely watched in Southeast Asia because Thailand has taken bold steps to institute economic and political reforms. With its new constitution and a cluster of new watchdog organizations, it is at the forefront of the region's nascent democratic movement, which has shaken old power bases from Indonesia to the Philippines. The nation's military chief had promised there would be no coup regardless of the vote's outcome.
Copyright 2018 The Lawrence Journal-World. All rights reserved. This material may not be published, broadcast, rewritten or redistributed. We strive to uphold our values for every story published.