New York — Journalists like to look upon their work as the first draft of history. The upcoming ABC and PBS collaboration, "The Clinton Years," is best considered a reliable second draft.
Starting Monday and running all week on "Nightline," the series thoroughly documents and dissects the eight-year Clinton administration. A two-hour summary airs Jan. 16 at 8 p.m. CST as part of the PBS "Frontline" series.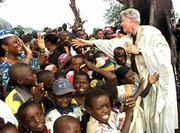 Candid commentary and anecdotes from former Clinton insiders particularly current ABC News employee George Stephanopoulos and former Labor Secretary Robert Reich add color and light to familiar events, particularly from the first term. Second-term events could benefit from a few more years of reflection, and perspectives from Clinton himself.
The collaboration is in keeping with recent tradition at "Nightline." The late-night news show has also become something of an independent production house, making documentaries for Court TV and the Discovery Channel.
Offering the two-hour documentary to PBS takes "Nightline" a step further, since PBS is available in more households than the cable networks and will air a special produced by ABC News directly against ABC entertainment programs. Appearing opposite "The Clinton Years" on ABC Jan. 16 will be "Dharma & Greg," "Geena" and "NYPD Blue."
"I don't think (ABC executives) believe that this documentary will pull people in droves from entertainment programming," said "Nightline" executive producer Tom Bettag. "They're two different audiences."
"The Clinton Years" airs nightly this week on "Nightline," at 11 p.m. on Sunflower Cablevision channel 12 and midnight on channel 9. A two-hour special airs at 8 p.m. Tuesday, Jan. 16, on PBS, cablevision channels 7 and 11.
The "Nightline" series and the PBS edition are also two distinctly different programs, although there is some overlap. Both begin with Clinton on the campaign trail and his response to reports about an affair with Gennifer Flowers. The episode foreshadowed the stories of the Clinton presidency: his personally destructive behavior, his ability to recover from wounds that would have killed off other politicians and the way he attacked foes who tried to bring him down.
Stephanopoulos' observations are critical to the success of "The Clinton Years," as befits his growing stature at the network. He and political aide James Carville relate a priceless anecdote about trying to keep a straight face when the president saw how focus groups responded to his wife.
The "Nightline" crew skillfully finds pictures to match the observations of the former insiders. For example, when aide Paul Begala recalls a Philadelphia campaign rally the day before the 1992 election where he received poll results that it was all but certain Clinton would win, the camera catches the future president hearing the whispered news, leaning back and smiling.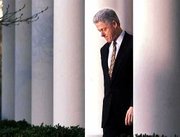 The story is told with the commentary of people who worked for Clinton, staying away from opponents or pundits. While Clinton has granted some sum-up interviews recently, notably to The New York Times and Rolling Stone magazine, ABC's requests were turned down.
"Nightline" anchorman Ted Koppel said he thinks the administration particularly Sen. Hillary Rodham Clinton hasn't forgiven the show for aggressively reporting on the Whitewater investigation. "Clinton has been able to put things behind him," Koppel said. "She can't."
Vice President Al Gore wasn't asked for an interview, both because he was too busy campaigning to succeed Clinton as it was being made and because it was thought he wasn't in a position to be candid, said ABC correspondent Chris Bury, who did much of the reporting for the series.
Copyright 2018 The Associated Press. All rights reserved. This material may not be published, broadcast, rewritten or redistributed. We strive to uphold our values for every story published.