Editor's Note: A portion of this story was omitted in Saturday's Journal-World. The entire story appears below.
---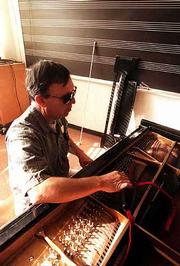 Working methodically, Loren Buntemeyer mutes one string and with a tuning hammer adjusts another on a piano in one of the faculty studios in Murphy Hall.
"A piano has more moving parts than a Volkswagen," Buntemeyer says.
Although not a musician, Buntemeyer, 55, is behind much of the music on the Kansas University campus.
He is KU's only piano technician and responsible for tuning and repairing more than 130 pianos in Murphy Hall and other areas of KU.
"Our whole music performance area would really be handicapped" if the pianos weren't properly maintained, said George Duerksen, interim chair of the department of music and dance.
And Duerksen said Buntemeyer keeps the music flowing. The fact that he is blind doesn't affect his ear for tuning; in fact, it may enhance it.
Buntemeyer, a native of Cunningham, received a taste of piano tuning while attending Kansas State School for the Blind in Kansas City, Kan.
He said back then it was not unusual for blind people to be trained for mechanical-type jobs.
He then went to a piano tuning school for the blind in Vancouver, Wash., and trained for two years.
He said as a child he had extremely poor eyesight that progressively worsened until he lost all sight at the age of 23.
He worked off and on for KU on a contract basis for a number of years and then was hired full time in 1984.
At first, he said, KU was leery of hiring him. "If a person has a disability or is a minority, they have to work twice as hard as the other guy. I think I have proven myself," he said.
Buntemeyer said that it takes about one-and-a-half to two hours to tune a piano. He says he hears a piano differently than a player.
"I hear different frequencies than musicians. When I play a chord or a couple of notes, I hear differences in frequencies of three strings." Each note has three strings.
"It's a profession that is precise, tuning to a thousandth of an inch. It's more mechanical than musical," he said.
In addition to tuning pianos, Buntemeyer does repairs and makes sure keys aren't sticking and that the keys have the same action.
Buntemeyer also has his own business where he fixes and sells pianos.
He recalled a time years ago when he was tuning an old piano for a church. Just as he finished, the cast iron plate in the piano cracked.
"I heard a boom. It sounded like a shotgun," he said. He said he has heard plates crack before when a piano was being moved but never when one was stationary.
The plate cracked because of the age and condition of the piano, he said. He said the church minister was very understanding.
At KU, Buntemeyer said, his blindness is no longer even a factor.
"I've been here so long, I don't even think about it, and I don't think anyone else does," he said.
Copyright 2018 The Lawrence Journal-World. All rights reserved. This material may not be published, broadcast, rewritten or redistributed. We strive to uphold our values for every story published.