Last month Galen White gave himself a retirement party that included a background setting of colorful tropical fish, sharks, and the foreboding hulks of sunken Japanese warships.
White, who retired this fall after a 40-year career with the U.S. Postal Service in Lawrence, spent more than a week scuba diving in the waters of a lagoon in the Chuuk Islands, part of the Federated States of Micronesia in the South Pacific.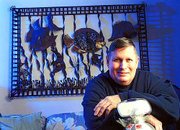 The lagoon was once known as Truk Lagoon, and it is an underwater burial ground for numerous sunken Japanese World War II warships, airplanes and submarines.
"I consider it a heck of a retirement party to have given myself," White, 62, said. "It was awe-inspiring."
White began scuba diving five years ago and at the same time learned underwater photography. Previous dives mainly have been in the Caribbean.
After a grueling 24-hour flight plus layovers, White and others who'd signed up for the excursion through a Florida firm specializing in such adventures, arrived at the island's Blue Lagoon Resort.
White also caught a cold, which hampered his diving experiences.
"My sinuses would start filling up and I couldn't go below 45 feet," he said. "I couldn't fully explore the inside of the ships."
What White did see, however, were upper-level rooms that contained various artifacts such as broken cases of machine gun bullets. Some artifacts, such as human leg bones, had been brought out from the hulls of the ships by previous divers and placed on the deck.
Most of the more than 60 ships at the bottom of the lagoon are freighters sunk by American bombers in February 1944. Historical accounts say the Japanese learned in advance of the bombing raids and were able to get most of their main warships out of harm's way. What was left were numerous freighters.
"Even though they were freighters they still carried small, 5- and 6-inch guns and machine guns," White said. "Almost without exception all of the hulls had torpedo holes. It was quite a site."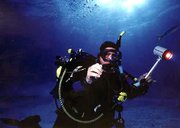 On the remains of one freighter's hull was a commemorative plaque marking the bombing raids of Feb. 12, 1944.
But the ships weren't the only impressive sights, according to White. He took numerous photographs of exotic tropical fish and coral reefs.
"The colors down there just blew you away," he said.
Divers also shared the water with sharks. Most were silver or white-tipped reef sharks, White said.
"They didn't usually bother us," he said. "If they get too close then you just smack them in the face with a camera."
White returned to Lawrence on Christmas Day. Although he intends to continue diving, he isn't sure if he'll make it back to the South Pacific.
"When I get too old and I can't dive, at least I will have these memories and these pictures," he said, pointing to a thick photo album.
Copyright 2018 The Lawrence Journal-World. All rights reserved. This material may not be published, broadcast, rewritten or redistributed. We strive to uphold our values for every story published.