Brett Ballard sank one of the biggest baskets in Kansas University's hard-earned 94-82 victory over Texas Tech on Saturday night at United Spirit Arena.
Yep, Brett Ballard KU's walk-on guard out of Hutchinson Community College who drained a three-pointer with 13:23 left, giving the Jayhawks a 63-51 lead.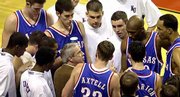 Ballard's three, which followed a tap-out rebound by Luke Axtell, came during a 12-0 spurt that upped a 55-51 lead to 16 points.
"He made a good pass to me and I stepped up and shot without hesitation," said Ballard, who has three threes in four attempts. "That's the big thing coach wants to shoot without hesitating."
Ballard entered as a replacement after KU coach Roy Williams pulled Kenny Gregory and Jeff Boschee for failure to hustle for a loose ball.
"I think coach wanted us to pick up the intensity," Ballard said of the lineup of Drew Gooden, Luke Axtell, Nick Collison, Kirk Hinrich and Ballard. "That's one thing he talked about at halftime, coming out and making it tougher on them the second half."
The Jayhawks, who led, 42-38, at halftime, rolled 52-44 the final half.
Williams suffered one of his dizzy spells early in the second half Saturday. He screamed at one of the refs after Axtell was called for an offensive foul and Williams had to compose himself in a crouched position before standing and returning to KU's bench.
"I got a little dizzy," Williams said. He's had several dizzy spells in his 13 seasons at KU, one at practice last season.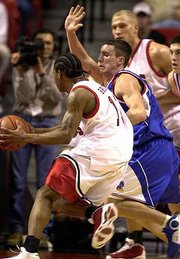 "I've never worried about it. Screaming, ranting and raving at the officials is what it was. I got up from a crouched position, blood rushes to the head or whatever it was. It's been doing it since I was a catcher in (youth) baseball."
Gregory took off his right shoe on the bench in the second half, making some wonder if he was having problems with the stress fracture in that foot. Nope. He had a problem with a toe nail rubbing into a toe.
Roy Williams went with a lineup of Gooden, Eric Chenowith, Boschee, Hinrich and Gregory. Collison was the big man to come off the bench this game.
"Like I said I'll probably rotate them and not be married to one lineup. I thought all three big men played well," Williams said.
Axtell, who is a native of Austin, hit three three-pointers while playing in his home state. "It's just good to be back here," said Axtell, whose grandparents were in attendance along with his parents. "It's always big to win a conference game. It was important to win our conference opener."
Jamal Brown's nine assists mark a season high by a KU opponent and are the most by a KU foe since Doug Gottlieb of Oklahoma State had nine assists on March 10, 2000. ... Gooden has scored in double figures in all 13 games this season. ... Kirk Hinrich tied a career high with three steals. ... Luke Axtell tied a career high with three threes. ... KU won its 10th straight conference opener and its fifth straight conference opener on the road. ... KU is 11-1 versus Texas Tech. ...KU had zero blocks for the first time since December, 1998, against Pepperdine.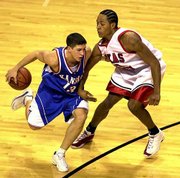 Copyright 2018 The Lawrence Journal-World. All rights reserved. This material may not be published, broadcast, rewritten or redistributed. We strive to uphold our values for every story published.