Hobart Jackson says viewers will have to consider whether the life drawings and photographs in his exhibition at the Lawrence Arts Center can be called art.
To him they are "a body of work accumulated over years" that represent his "Practice."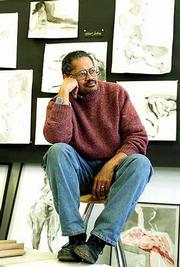 "That's 'Practice' with a capital P," Jackson says, explaining that his process of creating art has a meditative component and his works are the result of emotion, gesture, technique and discipline.
Jackson's exhibit, "Saturdays and Sundays ," is made up of about 40 life drawings and about a dozen photographs. The name draws the line between the two media: From 10 a.m. to 12:30 p.m. Saturdays for the past 20 years, he and other artists interested in representing the nude human form have drawn together, first at the Art and Design Building at Kansas University, and since 1988 at the 500 Locust Gallery in North Lawrence. On Sunday afternoons during that same time, he has taken photographs of the trees, benches, sidewalks, fountain and playground equipment in South Park.
"This is a milestone for me," Jackson, a Kansas University architecture professor, says. "It's the biggest solo exhibit I've had, and it's the most public exposure of my work because more people venture into the arts center than at the 500 Locust Gallery."
From science to art
Jackson, who grew up in Philadelphia, didn't set out to become an artist. In high school he focused on math and science, and was accepted into Princeton University in 1958 to study chemical engineering. He was one of four blacks among the school's 2,500 undergraduates.
But his educational focus changed during his senior year. His attention turned to fine arts photography, large oil paintings and other art forms. He left Princeton in 1961 and enrolled in the graphics design program at Carnegie-Mellon University in Pittsburgh.
"Early on, I struggled to find a medium. A lot of the early work is in color with pastel chalk, a lot in pencil. I don't remember when I picked up the pen, but it goes back to Carnegie-Mellon. Howard Glasser was an instructor who taught in the vein of Kimon Nicolaides' book, 'The Natural Way to Draw.' It starts with painstaking, slow methodical work, beginning with contour lines. The instructor made us use ink so the first mark was permanent.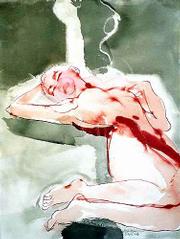 " For some of the exercises, we wouldn't even look at the paper. The eye would follow the contour (of the live model), and we trained the hand to follow the eyes," he says. "We would go very slowly and see every change possible. It was a very disciplined way of seeing.
" Since 1982, my consistent medium has been pen, ink and wash. Sometimes, I venture into color. I took some classes from (Lawrence artist) Diana Dunkley and she turned me on to Rotring (a liquid acrylic paint). It became a bridge from black and white into color. But in the last five years, it's been strictly black and white."
Dunkley also taught him how to use wax resist with water media. When a model does longer poses, Jackson will take a lit candle and use the dripping hot wax to do a line drawing of the human form.
"There's also this tension about where the first mark is, so the wax becomes a pre-drawing," he says. "Then I bring in gray washes to get the paper wet, and a rough form of the figure is laid out. The wax marks show through the wet washes. Then I go in with an ink pen and work with ink in the wet wash. This causes the ink to bleed and 'accidents' to happen. There's a lot of chance or serendipity. The drawings are very fluid and partly accidental. It's a partly controlled process."
The urban look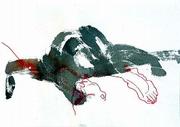 Jackson, who earned his master's degree at Southern Illinois University, moved to Lawrence in the late 1970s and lived with his wife, Shakura, on Vermont Street across from South Park.
"When I grew up, I lived in a house across from a park in Philadelphia. So I had this (affinity for) a city park as a front yard," he says. "Shakura suggested I do an ongoing focused study in photography. I decided it would be South Park, and it would take place on Sundays typically."
For the first three years, he shot every Sunday afternoon. Then the Jacksons moved farther from the park and the documentation became more sporadic.
The photographs are a contrast to his in-the-moment drawings of human forms. The photos are of trees, benches, pathways, the bandstand, fountain and play equipment, showing the changes that have occurred over time at the park.
What: "Saturdays and Sundays ," an exhibition of drawings, paintings and photography by Hobart Jackson.When: Through Feb. 2.Where: Lawrence Arts Center, 200 W. Ninth St.Opening receptions: From 7 p.m. to 9 p.m. Jan. 20 and from 6 p.m. to 9 p.m.Feb. 2.
Another contrast: The photos are in color.
"The photography is about the cityscape and the details within the urban environment," he says. "I am frequently looking down at the ground and playing with graphic relationships painted yellow curbs, blue-painted curbs, handicapped zones and street markings over time and how they've weathered.
"I've trained pretty much as a graphic designer, so photography is a way to document graphic and spatial relationships."
Jackson, 60, is looking forward to retirement. He and his wife are building a two-story studio at their home. Shakura will do her photography, mosaics and quilting in the downstairs portion, while the second floor will be home to a professional photography darkroom and an art studio big enough to house the life drawing group now meeting at 500 Locust.
Copyright 2018 The Lawrence Journal-World. All rights reserved. This material may not be published, broadcast, rewritten or redistributed. We strive to uphold our values for every story published.