Bethlehem, West Bank — Bethlehem ushered in Orthodox Christmas on Saturday with none of the usual crowds of visitors and with little cheer both kept away by months of Israeli-Palestinian bloodshed and Israeli blockades.
A single public Christmas tree stood alone, and the few thousand who milled in Manger Square on Saturday were Bethlehem residents marking the Orthodox Christmas Eve without the tens of thousands of foreigners who joined them in 2000.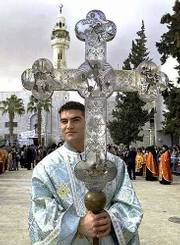 "This is the worst Christmas I ever had in my life," said Hana Banak, 25.
Blanket closures imposed on the West Bank and Gaza Strip in response to recent bombings kept the young Palestinian from visiting relatives in Jerusalem, he said.
"I am here ... but I am not happy," Banak said, standing next to the Church of the Nativity.
Orthodox Christians among the town's 35,000 people said they were observing this year's holiday with prayers, but few gifts or celebrations.
More than three months of violence made merrymaking inappropriate, they said, and the economic losses from the plunge in tourism made it hard.
Nearly 360 people have died in violence that began in September, most of them Palestinians, and the Palestinian tourism ministry estimates overall losses at $60 million since November. With tensions high and travel difficult, hotels that expected religious pilgrims were going begging, and factories and shops that churn out food and gifts for the pilgrims were idle.
In contrast to 2000, when thousands from the world over jostled in the square, the few foreign faces in the crowd Saturday were clerics.
Acting patriarch Cornelius of the Greek Orthodox church and patriarchs of the Syrian and Coptic church followed a cross in procession through the streets of Jerusalem's Old City.
Copyright 2018 The Associated Press. All rights reserved. This material may not be published, broadcast, rewritten or redistributed. We strive to uphold our values for every story published.