Furniture from the 1950s and 1960s is selling for good prices at the Modernism auctions.
Famous makers like Charles Eames and George Nelson are known to many collectors, but makers who did a limited number of pieces of custom furniture have been ignored until recently.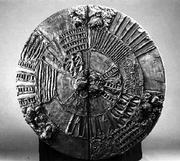 One designer of some of the more unusual pieces of furniture is Paul Evans. He was a sculptor who made one-of-a-kind furniture from steel, bronze and wood.
Evans studied metalwork and sculpture in several art schools. In the early 1950s he worked at a museum, reproducing colonial silver. In 1954, he began working at his own studio and was soon making large wooden and metal pieces of furniture.
In 1964, he began designing for Directional, a furniture manufacturer. A short time later, he was running the company's factory and managing almost 90 employees. By the 1970s, he was making tables and sideboards that then cost up to $6,000. He stopped working for the factory in the late 1970s, but he continued with his own workshop and designs. He died in 1987.
The unusual pieces, with massive metal doors or cubelike metal bases, are selling today for thousands of dollars. Many pieces are signed and dated. All pieces show his unique style and can be identified.
Current prices are recorded from antiques shows, flea markets, sales and auctions throughout the United States. Prices vary in different locations because of local economic conditions.Pressed glass butter/nappy, covered, Harp pattern, 10-sided base with 48 rays and center circle, 6 inches by 4 3/4 inches, $80.Hattie Carnegie clip, Aurora Borealis trembler, gold-tone leaf-and-vine design, stamped-on clip, 1940s, 1 inch by 2 inches, $90.Hansel & Gretel cookie-cutter set, Hansel, Gretel, witch, tree, gingerbread house, plastic, recipes, story, by Educational Products, 1947, set of six cutters, $150.Meissen candlestick, Blue Onion pattern, domed stepped foot tapering to ringed and baluster-form stick, blue crossed swords mark, 9 inches, $425.Satin Skin sign, cardboard, cherub sitting on jar of cream whispering secrets to lady with fan, c.1911, die-cut, 18 inches by 18 inches, $485.Damask gown, two-piece, brown with embroidered leaves, white ruffled collar and cuffs, white under-slip, 1890s, $635.Vogue Sweetheart Ginny doll, plastic head, brown sleep eyes, rosebud mouth, five-piece body, satin dress, red bodice, red heart accents, 1950,8 inches, $745.Salesman's sample sled, wood and metal, with original Airline Flexible Flyer label, 9 inches by 23 inches, $750.
How old is Irish Belleek?
Irish Belleek was first made in 1857 at Fermanagh, Ireland. The factory, now called Belleek Pottery Ltd., marked almost all of its wares. Collectors find it easy to date Belleek because of the changing mark. Black marks were used before 1946. Green, gold or blue was used later. Belleek is a special type of ceramic. It has a creamy-yellow glaze that appears wet. Factories in other countries also made Belleek, but the Irish product is the most well-known. It is still being made.
I have a bank that looks like a small cash register. The coin slot takes nickels, dimes and quarters. When you pull the front lever, the amount deposited registers in dollars and cents on the front. The drawer won't open until $10 has been deposited. The label on the drawer reads, "Uncle Sam's 3 Coin Register Bank." Do you know when it was made and what it's worth?
Your coin-register bank was made by the Durable Toy and Novelty Co. of New York City. Besides your three-coin model, the company made two other Uncle Sam registering banks shaped like cash registers. One took only dimes, the other only nickels. The banks were introduced about 1912 and were made for about 50 years. Your bank sells today for about $50.
I am hoping you can help me identify and value an oval pickle dish that belonged to my grandmother. It is clear glass and measures about 9 inches by 5 inches. In the center is a design of a woman's bust above the name "Kate Claxton." Around the two long sides of the dish are the words, "Love's Request is Pickles."
Your pickle dish is a well-known piece of American pressed glass. It was made during the 1880s by one of three Ohio companies known to have produced Actress pattern pressed glass. Kate Claxton (1848-1924) was a popular actress in New York theater during the 1870s. She also appears on the sugar bowl and goblet of the same pattern. Your pickle dish sells for about $70.
Copyright 2018 The Lawrence Journal-World. All rights reserved. This material may not be published, broadcast, rewritten or redistributed. We strive to uphold our values for every story published.